A few days ago, Blue Isle Studios anounced that Slender: The Arrival is coming to Xbox Live Arcade for the Xbox 360 and PlayStation Network for the PlayStation 3 this Spring with the help of its publisher, Midnight City, containing 2 new bonus levels, that will also be available to the PC and Steam versions with a patch alongside the console release.
No price or specific release date has been mentioned, but there's a new video showcasing a ne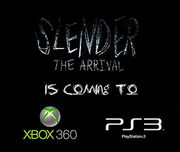 w level, with a new male char
acter, presumably CR.
Ad blocker interference detected!
Wikia is a free-to-use site that makes money from advertising. We have a modified experience for viewers using ad blockers

Wikia is not accessible if you've made further modifications. Remove the custom ad blocker rule(s) and the page will load as expected.