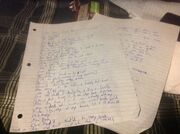 So fAr So gOoD oN the dArKHaRvEst ReViVaL... I jUSt fInIs heD tRanScRiBiNg LoG eNtRy #6 aNd I hAvE yEt tO tYpE iT iN.
ItS nO cAkEwAlK.. BuT aS aLwAyS iM gLaD tO hElP tHiS wIkI iN aNy wAy tHaT I cAn. ScReeNshOts, dIaLogUe aNd cOpYiNg and pAsTiNg thE bLooDy d esCrIpTion aNd YouTuBe lInKs. NoT tO meNtiOn tHe DH wIkI seEmEd tO hAvE sToPpEd aDdIng tRanScrIptS aT ePiSoDe 4.
GlaD tO gEt tHiS tRaIn rOLlinG.
--THe c0mPⓍsEr (talk) 20:45, April 18, 2014 (UTC)
Ad blocker interference detected!
Wikia is a free-to-use site that makes money from advertising. We have a modified experience for viewers using ad blockers

Wikia is not accessible if you've made further modifications. Remove the custom ad blocker rule(s) and the page will load as expected.