Ad blocker interference detected!
Wikia is a free-to-use site that makes money from advertising. We have a modified experience for viewers using ad blockers

Wikia is not accessible if you've made further modifications. Remove the custom ad blocker rule(s) and the page will load as expected.
Back to main navigation
Faction
Group: SMW
Gender: Female
Design: Humanoid
Archetype: Magic Knight
Profile
Name: Violet
Class: Force Knight
Ability: Element values now add/subtract damage from elemental attacks. Magic and Attack Special range increased by 2.
Music: EXEC FLIP ARPHAGE
Image: Warrior Miku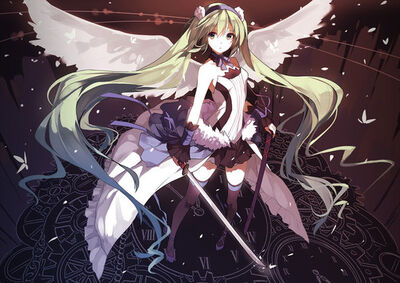 Stats
Lv: 129
HP: 11621
SP: 4827
ATK: 8638
DEF: 8405
INT: 6228
RES: 4222
HIT: 3862
SPD: 3283
Logistics
COUNTER: 1
MV: 7
JM: 31
TW: 4
CRIT: 21%
Elemental affinity
FIRE: 25%
WIND: 25%
ICE: 25%
Aptitude
HP: 120%
SP: 130%
ATK: 125%
DEF: 100%
INT: 125%
RES: 100%
HIT: 100%
SPD: 80%
Skills
Fire Charge: 1 (INCREASE FIRE AFFINITY)
Wind Charge: 2 (INCREASE WIND AFFINITY)
Ice Charge: 2 (INCREASE ICE AFFINITY)
Anti-Fire: 1 (DECREASE FIRE AFFINITY)
Anti-Wind: 1 (DECREASE WIND AFFINITY)
Anti-Ice: 2 (DECREASE ICE AFFINITY)
Blade Rush: 1 [ATK]
Hurricane Slash: 1 [ATK] {WIND}
Nether Slash: 2 [ATK]
Musou Slash: 2 [ATK]
Dark Night Slash: 3 [ATK]
Dimension Slash: 6 [ATK] {STAR}
Sky Nine Slash: 5 [ATK]
Super Crosslord: 5 [ATK]
Fire: 1 [INT] {FIRE}
Mega Fire: 1 [INT] {FIRE}
Giga Fire: 1 [INT] {FIRE}
Wind: 1 [INT] {WIND}
Mega Wind: 1 [INT] {WIND}
Giga Wind: 1 [INT] {WIND}
Omega Wind: 1 [INT] {WIND}
Tera Wind: 1 [INT] {WIND}
Ice: 1 [INT] {ICE}
Mega Ice: 1 [INT] {ICE}
Giga Ice: 1 [INT] {ICE}
Giga Star: 1 [INT] {STAR}
Omega Star: 1 [INT] {STAR}
Tera Star: 1 [INT] {STAR}
Heal: 1 [RES]
Mega Heal: 1 [RES]
Giga Heal: 1 [RES]
Omega Heal: 1 [RES]
Tera Heal: 1 [RES]
Espoir: 1 (CURES ALL STATUS EFFECTS)
Braveheart: 3 (TEMPORARILY INCREASE ATK)
Shield: 6 (TEMPORARILY INCREASE DEF)
Magic Boost: 1 (TEMPORARILY INCREASE INT)
Magic Wall: 3 (TEMPORARILY INCREASE RES)
Target Lock: 2 (TEMPORARILY INCREASE HIT)
Speed Boost: 3 (TEMPORARILY INCREASE SPD)
Enfeeble: 2 (TEMPORARILY DECREASE ATK)
Blind: 1 (TEMPORARILY DECREASE HIT)
Slumber: 3 (INFLICTS SLEEP)
Stun: 2: (INFLICTS PARALYSIS)
Blank Out: 2 (INFLICTS AMNESIA)
Charm: 2 (INFLICTS DEPRAVE)
Tower Fall: 1
Tower Move: 1
Tower Lift: 1
Tower Throw: 1
Equipment
Weapon: Pane Dhiria (RARE)
Armor 1: Nightingale (RARE)
Armor 2: Arcadia (RARE)
Armor 3: Propel Vernier (RARE)
Master
None
Student
None