Ad blocker interference detected!
Wikia is a free-to-use site that makes money from advertising. We have a modified experience for viewers using ad blockers

Wikia is not accessible if you've made further modifications. Remove the custom ad blocker rule(s) and the page will load as expected.
Back to main navigation
Faction
Group: SMW
Gender: Male
Design: Monster
Archetype: Sludge
Profile
Name: Black Tear
Class: Slime
Ability: Decrease non-elemental damage taken by 30%. Being physically attacked inflicts DEPRAVE on attacker.
Music: Motorhead - Love Me Forever
Image: Black Tear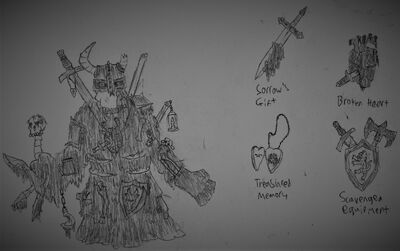 Team member: Not selected
Stats
Lv: 100
HP: 3640
SP: 1087
ATK: 11754
DEF: 5773
INT: 298
RES: 793
HIT: 4996
SPD: 727
Logistics
COUNTER: 1
MV: 3
JM: 19
TW: 7
CRIT: 25%
Elemental affinity
FIRE: -50%
WIND: -25%
ICE: 0%
Aptitude
HP: 80%
SP: 110%
ATK: 110%
DEF: 140%
INT: 70%
RES: 70%
HIT: 110%
SPD: 90%
Skills
Slime Stomp: 1 (INFLICTS POISON)
Slime Cheer: 1 (INFLICTS POISON)
Roslimebo: 1 (INFLICTS POISON)
Muscle Slime: 1 (INFLICTS POISON)
SLIM HAND: 1 (INFLICTS POISON)(MOUNT ATTACK)
Equipment
Weapon: Sorrow's Gift
Armor 1: Broken Heart (RARE)
Armor 2: Treasured Memory
Armor 3: Scavenged Equipment (RARE)
Master
No one
Student
No one