Ad blocker interference detected!
Wikia is a free-to-use site that makes money from advertising. We have a modified experience for viewers using ad blockers

Wikia is not accessible if you've made further modifications. Remove the custom ad blocker rule(s) and the page will load as expected.
Back to main navigation
Faction
Group: SMW
Gender: Male
Design: Humanoid
Archetype: Warrior
Profile
Name: Alexey
Class: Battle Master.
Ability: Stats increase for every enemy within 2 panels. All non-elemental damage decreased by 75%.
Music: Under My Skin
Image: Battle Master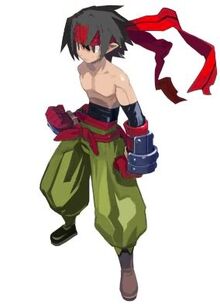 Team member: Not selected
Stats
Lv: 280
HP: 38527
SP: 4356
ATK: 12259
DEF: 12618
INT: 4285
RES: 5249
HIT: 7994
SPD: 6039
Logistics
COUNTER: 2
MV: 6
JM: 42
TW: 5
CRIT: 41%
Elemental affinity
FIRE: 0%
WIND: 8%
ICE: -50%
Aptitude
HP: 141%
SP: 81%
ATK: 141%
DEF: 146%
INT: 81%
RES: 101%
HIT: 126%
SPD: 91%
Skills
Boulder Crush: 3 [ATK]
Helmet Crush: 2 [ATK]
Super Back Spin: 4 [ATK]
Axe Wheel WMD: 5 [ATK]
Dynamic Moon: 5 [ATK]
Plasma Sky: 8 [ATK]
Netherworld Loop: 4 [ATK]
El Diablo: 6 [ATK]
Fire: 1 [INT] {FIRE}
Mega Fire: 1 [INT] {FIRE}
Giga Fire: 1 [INT] {FIRE}
Omega Fire: 1 [INT] {FIRE}
Tera Fire: 1 [INT] {FIRE}
Wind: 1 [INT] {WIND}
Mega Wind: 1 [INT] {WIND}
Giga Wind: 1 [INT] {WIND}
Ice: 1 [INT] {WATER}
Mega Ice: 1 [INT] {WATER}
Giga Ice: 1 [INT] {WATER}
Tera Ice: 1 [INT] {WATER}
Star: 1 [INT] {STAR}
Mega Star: 1 [INT] {STAR}
Giga Star: 1 [INT] {STAR}
Tera Star: 1 [INT] {STAR}
Heal: 1 [RES]
Mega Heal: 1 [RES]
Giga Heal: 3 [RES]
Omega Heal: 1 [RES]
Tera Heal: 1 [RES]
Espoir: 1 (CURES STATUS AILMENTS)
Braveheart: 4 (BOOSTS ATK TEMPORARILY)
Shield: 6 (BOOSTS DEF TEMPORARILY)
Magic Boost: 2 (BOOSTS INT TEMPORARILY)
Magic Wall: 3 (BOOSTS RES TEMPORARILY)
Target Lock: 3 (BOOSTS HIT TEMPORARILY)
Speed Boost: 5 (BOOSTS SPD TEMPORARILY)
Armor Break: 1 (DECREASES DEF TEMPORARILY)
Poison: 1 (INFLICTS POISON)
Slumber: 1 (INFLICTS SLEEP)
Stun: 1 (INFLICTS PARALYSIS)
Blank Out: 1 (INFLICTS DEPRAVE)
Tower Move: 1
Equipment
Weapon: Ain Soph Aur (LEGEND)
Armor 1: Thanatos
Armor 2: Conduit
Armor 3: Decisive Pumpkin
Master
No one
Student
No one