FROM AN ARG OR ARE
This article discusses content originating from the ARG or ARE Marble Hornets and thus is confirmed to be fictional.
Characters and organizations discussed are portrayed by actors.
The unnamed Man #3 is an extra appearing in Entry #81. 
Appearance in the series
Edit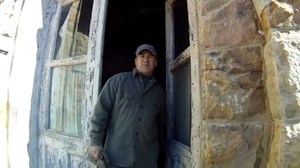 During a visit to try to enter Benedict Hall, Tim comes across this man. He confronts Tim as to his presence on campus, but Tim manages to convince the man he is there to collect materials left behind by a friend of his who was a former student. The man tells Tim that he should return later when "Jacob" (an individual whom has never appeared and likely owns the area) returns. He is not seen again.
Speculation
Edit
Very little speculation exists, and, like Unnamed Man #1, this man likely has no idea of Tim's journey or what he's up against. He's likely just an average groundskeeper
This man was played by Tim Sutton's father
Ad blocker interference detected!
Wikia is a free-to-use site that makes money from advertising. We have a modified experience for viewers using ad blockers

Wikia is not accessible if you've made further modifications. Remove the custom ad blocker rule(s) and the page will load as expected.