Tim
Talk

1
252pages on
this wiki
Tim

Tim from MarbleHornets

Names

Tim, Masky

Identity

Human

Series

Condition

Alive

Actor

Tim Sutton
Tim
is a major character in the
MarbleHornets
ARG
and was a friend of
Brian
, one of the missing cast members, and also the personae Masky. He appears frequently and to date is one of the most mysterious characters in the series.
Masky is notable for being one of the major driving plot devices in the series and being a recurring character. Masky's actions and the theories surrounding him have lead to the concept of proxies being created, although Masky himself (nor Hoody), have ever been stated to be proxies. Masky is generally regarded as a mysterious antagonist; however, his actions in saving Jay and Jessica from being murdered by Alex in Entry #52 might suggest otherwise.
Entry #59 gives the best display of Tim's personality. He appears to be very distressed and extremely upset over his condition, having huge blackouts and being unable to awaken for large periods of time with no recollection. Although he is a calm individual on the exterior, his true personality is that of a scared man who wants to be normal and escape the hell that chases him.
If Entry #55 is to be believed, then Tim may have been stalked by the Operator for years, and everyone else got roped in due to involvement with him. If Entry #59 is to be believed, Tim has had no recollection of any of the events as Masky [due to the blackouts], nor any knowledge of the Operator until this entry. Entry #60.5 even hints Tim may have been stalked by the Operator since his childhood.
Appearances
See Main Article:  Tim/Masky in Marble Hornets
Debate over being Masky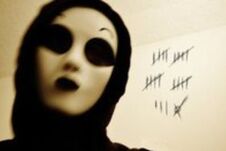 There was originally some debate over whether Tim actually was Masky, or was purposely found out to be Masky in order to throw off suspicion of the true identity of Masky. Since technically none of these reasons were wrong, it must be assumed that they are all correct until proven otherwise, however Jay, in the videos, refers to Masky as Tim after he is unmasked in Entry 35, and every time Masky makes an appearance in the series afterwards, he is constantly wearing Tim's jacket and sporting Tim's hair. Theories over Masky, his intentions, and his alliances are one of the main driving elements of MarbleHornets.
Masky and ToTheArk
Initially, there was heavy suggestion and interpretation by viewers that Masky was Totheark, and was the one filming and uploading the distorted footage and strange messages. This connection remained strong until later entries, where it seems to be on shaky ground. With the appearance of Hoody, some suggest that either both the individuals or just Hoody may be Totheark, yet some theorize that Alex may be ToTheArk. However, when the new video Decay was released, more people started to to think Tim was ToTheArk, and that he had a grudge against Alex and that he was using Jay to get to him. This makes sense, as Tim gives Jay the tapes of Marble Hornets in Entry #54. It would also make sense why he would have a grudge against Alex, since he smashed his leg. This theory is disproved as of the ToTheArk video Surveillance.
Masky and Brian/Seth
There is potential that all three men could in fact be Masky. This is due to the fact that:
Tim gets his leg crushed in Entry #35 by Alex. He is shown running in multiple entries following (chronologically of course through the old tapes), so either Tim's leg healed, or it isn't Tim. By entry #63, despite seeing the MarbleHornets series and the Masky situation, Tim has not made any mention of Masky or if his leg was in a cast at any point for an undetermined injury as if he were avoiding the topic or forgot about it.
Seth, Brian and Tim all got attacked by the Operator, so there's no reason two of them can't be Masky and one is Hoody, or all 3 are Masky and some other character we've yet to meet is Hoody. The theory for Brian was disproved, as of Entry #67.
Slender Man causes Slender sickness, so those pills Tim took could have been anything, and all of the attacked people could have been taking those pills. Jay, for example, finds ibuprofen in a duffel bag after waking up from an attack from the Operator in Entry #27. There's no reason Tim wasn't taking ibuprofen.
Other facts
Tim's last name is never mentioned. The only time it is known to be said is when Jay talks to him in Entry #53, but it was bleeped out by Jay. In Entry #60.5 on Tim's medical documents, it states his full name, but it is redacted, and just says "Timothy W."
Appearances in other media
Gallery