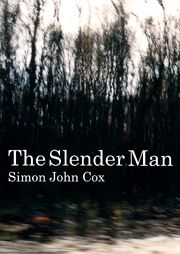 The Slender Man
is an independently published horror ebook written by Simon John Cox. Its plot centers on a man called Adam Bradford, who visits a small isolated village to investigate the disappearance of his sister.
The book was released on the 27th of October 2012.[1]
From Amazon.com:
"When Adam Bradford's sister goes missing he drops everything to assist the police, traveling up to the isolated village where she lived. When he arrives at her cottage, however, he discovers a life in disarray and a bedroom filled with cryptic notes and mysterious blurred photographs. At first he puts this obsession down to some kind of psychological disorder, but after he experiences a series of disturbing events he begins to question whether there is any truth to the myth of the Slender Man..."[2]
Citations
Edit