Seven Trials of HABIT, The twitter page of HABIT and one of the main ways HABIT messes with the EMH crew. He uses cryptic messaging and games. The Seven Trials of HABIT begin with a sign-up sheet as follows:
Application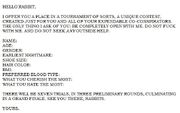 HELLO
RABBIT
,
I OFFER YOU A PLACE IN A TOURNAMENT OF SORTS, A UNIQUE CONTEST, CREATED JUST FOR YOU AND ALL OF YOUR EXPENDABLE CO-CONSPIRATORS. THE ONLY THING I ASK OF YOU: BE COMPLETELY OPEN WITH ME. DO NOT **** WITH ME. AND DO NOT SEEK ANY OUTSIDE HELP.
NAME:
AGE:
GENDER:
EARLIEST NIGHTMARE:
SHOE SIZE:
HAIR COLOR:
BMI:
PREFERRED BLOOD TYPE:
WHAT YOU CHERISH THE MOST:
WHAT YOU HATE THE MOST:
THERE WILL BE SEVEN TRIALS, IN THREE PRELIMINARY ROUNDS, CULMINATING IN A GRAND FINALE. SEE YOU THERE, RABBITS.
YOURS.
Trial One
Trial one involved individuals preparing a list and emailing it to HABIT, they were later required to video tape themselves burying a cherished item, having the grave marked, and leaving the item behind.
Intro: "YOU MADE THE CUT. THERE ARE MANY WHO ENVY THIS INVITATION. IF I AM SUCCESSFUL, IT WILL BE YOU WHO DESIRES EXCLUSION. ALL THE BETTER. LET'S GET STARTED, SHALL WE? BABY-STEPS, PEOPLE, BABY-STEPS.
Task: Part 1 of 2 - Provide a list of your five most beloved possessions, preferably one that fits inside a brown paper bag. Time Limit: 24 hours
Part 2 of 2 - From the previous list of five items, choose one. Place it in a bag and bury it in the woods or a field. Mark the grave and remind them: "HABIT MADE ME DO IT." Leave it behind.
Video Playlist of Trial One Part Two
Trial Two
Trial two involved the players being divided into three groups: Angora, English Lop, and Netherlands Dwarf (Each a type of rabbit). They were required to select a leader and expel a member from their group. From the leaders chosen, one of the three were voted to remain while one of the remaining two was voted to be expelled.
Intro: "CONGRATULATIONS, MEAT. OBVIOUSLY, YOU ALL HAVE PASSED THE FIRST TRIAL. THIS MEANS NOTHING. GREAT, YOU'VE BURIED SOMETHING. ALL YOU HAVE DONE IS LOST ONE MORE THING THAT MAKES YOU HUMAN. LET'S SEE HOW WELL YOU CAN COORDINATE YOURSELVES, SHALL WE?
Task: Part 1 of 2 - Prisoner's Dilemma: Angora, English Lop, Netherlands Dwarf - Each of you must (individually) cast a vote - choose a leader from your group for your team and then designate one runt member that will be eliminated. The leader will remain, the runt will suffer mob rule. Ballots will be cast in the following format: An email with your player number in the subject and your selection for leader and runt in the body.
Part 2 of 2 - Of the three leaders chosen, lend your support to one and choose another to cast out. Votes must be submitted in a new email.
Trial Three
Trial three involved players videotaping or recording themselves break ties with a friend.
Intro: "CONGRATULATIONS MAKING IT THUS FAR. HOWEVER, HOW DOES IT FEEL TO FOLLOW A LEADER THAT IS AS MORTAL AS HE IS SHIRTLESS? EVERYTHING BLEEDS, CHILDREN.
Task: Lose a friend by any means necessary. Any reason will do, but do not tell them why you are doing this. Simply blame it on them. At the end of the video or recording, remind them who made you do it.
Trial Four
Trial four involved players reading a lengthy poem in a public place, while recording the event and displaying it for others to see.
Intro: LET'S RAISE SOME AWARENESS, SHALL WE?
Task: Recite the following poem in a public place with at least 10 people on screen. You must be loud, clear, and heard. Record it.
Trial Five
Trial five required players to create handmade gifts for a loved one, whom HABIT states as being far more dear than the individual from trial four. After presenting the gift the player was required to document themselves reclaiming it and informing the individual that it represents their relationship before destroying the item in front of them.
Intro: "TRIAL FIVE - HAS BEEN RELEASED. (PART 1/2) CREATE A BEAUTIFUL HANDMADE GIFT FOR A LOVED ONE. INCLUDE A PICTURE OF THE TWO OF YOU."
Task: Part 1 of 2 - Create a beautiful handmade gift for a loved one. The gift must include a picture of the two of you and it must be a physical item.
Part 2 of 2 - Present the gift to the recipient. Then document yourself reclaiming the gift. Tell them that it is a symbol of your relationship and your love, then destroy it.
Trial Six
Trial six required players to perform an actual protest with several individuals at their local municipal center. The protest was to demand a change in leadership and to suggest HABIT. Like the other trials it was to be documented for public viewing.
Intro: "IT'S LOVELY TO BE BACK, RABBITS. TRIAL SIX RELEASED."
Task: Gather a group of at least 10 supporters. With this group, conduct a legal protest at your local municipal center and demand the removal of your current despot. Suggest a better leader, YOURS TRULY. Have at least one supporter carry a sign that reads "#HABIT2012" and maintain the protest for at least an hour. Keep it peaceful, RABBITS. I don't need crazies who get locked up to carry my name.
Trial Seven
Trial seven provided the players with a single task: Keep your body breathing. Unlike the previous trials this one possessed no time limit and would continue as long as there were two competing rabbits.
Intro: "GET READY, RABBITS... YOUR FINAL AND SEVENTH TRIAL WILL BE RELEASED IN MERE MINUTES."
Task: Keep your body breathing.
"Extra Innings"
On May 26, about nine months since the last trial-related tweet, HABIT tweeted: "EXTRA INNINGS." The Rabbits received the following email:
RESPOND WITH A PROPERLY FORMATTED MAILING ADDRESS. YOUR COOPERATION IS APPRECIATED. I PRAY THE YEAR REMAINS KIND.
Rabbit #228, who lives in Australia, received an additional email requesting his telephone number.
Rabbit #13, who lives in Russia, recieved an additional email requesting her telephone number.
On June 4th the Rabbits began reporting that they had received envelopes from HABIT. Each envelope contained a handmade card on heavy linen paper with a bunny stamp on it that says "think happy thoughts" inside, a patch and some ink ribbon.

The patch consisted of two circular pieces of heavy canvas sewn together with their Rabbit # stenciled on it. Nothing appears to be sewn between the pieces of canvas.
The ink ribbon pieces being sent to the Rabbits appear to be a continuation of the Ink Ribbon found by Green Feathers with Box 6.
It has been noted by some of the rabbits running into other people in games ruled by HABIT, stating that they have had 14 trials in all. There are supposedly 3 rabbits left in that trial.
EMH Involvement
Following the events of trial two, the leader that was voted out was able to select several other members to expel along side themselves. It was at this point that the EMH crew volunteered to leave the competition and all future trials involved only the remaining players.
Speculation
Based on the trials themselves it can be assumed that each was used as a means of weeding out individuals who did not possess the traits that HABIT desired for its perfect host.
The tournament is expected to continue indefinitely with no further instruction from HABIT.
"Rabbit" and "HABIT" are linked in a piece of music by Animal Collective, used in some of the EMH videos.