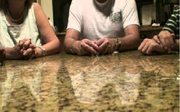 Noah's
father is a minor character in
TribeTwelve
. As of yet there is not much known about him. His only appearance was in
Secret Parent Interview
where the only visible appearance is his upper body and nothing more.
The individuals portraying Noah's parents are the series creator Adam Rosner's real parents.
Ad blocker interference detected!
Wikia is a free-to-use site that makes money from advertising. We have a modified experience for viewers using ad blockers

Wikia is not accessible if you've made further modifications. Remove the custom ad blocker rule(s) and the page will load as expected.