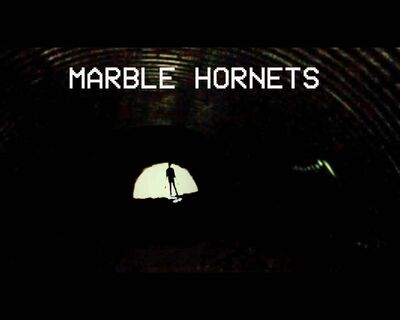 This is a list of Marble Hornets Entries in order of release, providing the title and a short summary. It is to note that any links you click in this list are filled with spoilers.
Season #1
Edit
IntroductionEdit
Tape: Jay's search for Alex
"The following clips are raw footage excerpts from Alex Kralie, a college friend of mine."
--First words shown by MarbleHornets.
Appears: No one
Cameraman: Jay
The video depicts scenery of buildings, streets and nature. The video goes on to explain that in 2006, a college student named Alex Kralie began shooting a college film project entitled Marble Hornets. During the process of filming, the cast and crew became increasingly irritable, especially Alex. The film was canceled before it could be finished, due to "unworkable conditions." Alex bid his friend, and the video's protagonist Jay to burn the tapes immediately. Jay kept them in storage instead; however, Alex made him promise never to mention them again. In June of 2009, Jay came across them and decided to look through them. The tapes were unlabeled and thus unsorted. Jay began to upload any peculiar footage from that point on.
Tape: Alex's Personal Footage
Appears: The Operator
Cameraman: Alex Kralie
The footage begins with an explanation that the clip had no relation to the film Marble Hornets and that the audio had been removed. The video depicts Alex picking up his camera, with a slight bit of visual distortion in the first second, and walking to his front door. Looking outside the window, he sees a tall figure with a blank white face standing ten feet away, dormant. The video ends quickly, and Jay assures us he will look for similar peculiar footage.
Tape: Alex's Personal Footage
Appears: No one.
Cameraman: Alex Kralie
The video takes place prior to the events of Entry #1. The video depicts Alex talking to himself, documenting how he had noticed a peculiar sight while walking his dog. He describes seeing an incredibly tall man standing completely still under a street light. The dog began to bark wildly in a defensive manner. Alex drives back to the same streetlight to see if the tall man is still standing there. The tape abruptly ends before Alex can finish his sentence, and the figure is gone. Since Alex didn't recognize the figure, this likely took place prior to Entry #1
Tape: Alex's Personal Footage
Appears: Alex Kralie
Cameraman: Alex Kralie
Jay begins to notice that most of the tapes are not related to Marble Hornets and are mostly Alex videotaping himself. Key clips from twelve unsorted tapes depict Alex crumpling and tearing paper, walking through the woods at night, shopping for camera supplies, using his personal computer, driving, and acting furtively paranoid. Jay claims the tapes have no substantial information. The purpose of uploading the clips was to emphasize that Alex was filming himself irrationally for extended periods of time.
Tape: Alex's Personal Footage
Appears: The Operator
Cameraman: Alex Kralie
The clip depicts Alex walking at night in a child's playground for an unknown reason. The clip has no audio, and has similarities to Entry #1. Jay suspects the audio was removed by Alex himself. A swing set that begins swinging by itself frightens Alex, and the Operator appears briefly in the side of the camera. Alex runs away, looking around to see if the Operator was still there but does not see him. He then appears to fall to the ground, however the clip shuts off as the camera falls. The Operator appears to be moving in this clip, as if walking forward.
Tape: Marble Hornets Tapes
Appears: Alex Kralie
Cameraman: Jay
The clip contains Jay filming Alex in a gazebo next to a dry river in the woods while discussing locations for Marble Hornets, which has yet to be filmed. Throughout the tape, small visual tearing occurs as well as low, guttural audio distortions which block out any other sound. The noise occurs randomly without warning. The clip moves to a later scene of discussing the flat, thinned out border of the forest, where the audio continues to distort, and the characters first refer to the Tower, a large, red structure used for an unknown purpose.
Tape: Alex's Personal Footage
Appears: The Operator
Cameraman: Alex Kralie
Entry #6 is a short continuation of Entry #1, similarly with no audio. The film depicts Alex looking out his windows, with the Operator coming ever closer to his house. In the last view of him, He appears to be moving in a spectral-like manner before the clip ends.
Tape: Marble Hornets Tapes
Appears: Brian
Cameraman: Alex Kralie
The film depicts a rehearsal in Alex's van, in which Alex feeds lines to Brian, and an unknown girl stays quiet and unseen in the back seat. After delivering a series of lines, Brian casually leans his head back, and the Operator can be seen far in the back, slightly hidden by a brick wall. Alex does not appear alarmed, but quickly drives away, aware of the danger. The last second of the film has heavy, low audio distortion. Jay ends the film with, "Someone was following Alex."
Tape: Alex's Personal Footage
Appears: Alex Kralie
Cameraman: Alex Kralie
The short clip depicts Alex hovered over over a dozen frantically scribbled drawings, all done by him in dark chalk, all depicting either the Operator himself, or the Operator symbol, containing cryptic messages. Alex then gets up, for an unknown reason, and grabs the camera, shutting the light off. Prior to doing so, the audio cuts out. The rest of the tape is too dark to see anything, and the video's audio is out.
Tape: Marble Hornets Tapes
Appears: Tim, Sarah (Marble Hornets), Seth, Alex Kralie
Cameraman: Seth
Seth films and Alex directs while Tim and Sarah do a poor job of dialogue concerning the main character, acting idle and unimpressed. After a poor run, Alex asks for another, beginning a frustrated argument between him and the actors, which he also yells at Seth, the cameraman. During a break, Seth turns off the camera for a few minutes, setting Alex off in a fit of anger. Alex began filming himself being followed by The Operator before stopping production on Marble Hornets, and the nerve of being stalked made him irritable.
Entry #10Edit
Tape: Alex's Personal Footage
Appears: The Operator
Cameraman: Alex Kralie
The clip shows Alex running in a field of tall grass, with trees dotting the horizon. Most of the film is too dark to see anything outside of the flashlight shining in random places, and the Operator is seen standing still twice, demonstrating his ability to teleport or Slender Walk
Entry #11Edit
Tape: Alex's Personal Footage
Appears: Alex Kralie
Cameraman: Alex Kralie
Jay warns us that the clip contains the Operator, but that Alex may not have been aware of his presence. The clip opens in Alex's bedroom, the camera pointed at a wall covered in Operator symbols and slender man sketches. Alex grabs his camera and walks around his dark house. He checks the windows for any sign of the Operator. After seeing the coast is clear, he returns to bed. The video ends with a shadow passing across Alex's body.
Entry #12Edit
Tapes: Marble Hornets Tapes
Appears: Alex Kralie, Brian, Seth, The Operator
Cameraman: Seth
The clip takes place early in the filming of Marble Hornets when Alex is still calm and collected. Alex discusses filming with another person while the camera points into a view of grass, trees, and shrubbery. Alex initially responds to an inquiry with "I don't know, he'll move." The camera begins to emit a slightly audible static, and the picture lags in places while the color darkens dramatically. The camera moves into the position they wish to film, and the Operator is standing about fifty feet in the distance, completely still. The actors question why, and call out to him to step aside, seeing nothing peculiar about him. Ironically, one person comments that it might be an authoritative figure coming to scold them.
Entry #13Edit
Tape: Marble Hornets Tapes
Appears: Alex Kralie, The Operator
Cameraman: Alex Kralie
The clip begins in the park with Alex asking Jay to go back to their cars and grab the extra camera, because the current one is low on batteries. Alex goes on, and uncovers leaves from a piece of cement, which has the operator symbol scratched into it next to a building. The audio begins to distort before it cuts out entirely. Alex moves quickly along the side of the building, and sees the Operator mere feet away from him after turning a corner. He swiftly flees.
Entry #14Edit
Tape: Alex's Personal Footage
Appears: Alex Kralie, The Operator
Cameraman: Alex Kralie
The clip begins with the camera sitting in a dark room pointed statically at an open doorway that leads to a lit hallway, the picture immediately begins to cut before fixing itself. The Operator's arm reaches high behind the doorway and slightly pushes it aside while its head peers in before walking slowly inside. The Operator walks out frame toward Alex's bed, and Alex suddenly wakes with a start, knocks the camera over and turns on a lamp. He stands up, closes the door slightly again, and turns the lamp off. 32 minutes later, Alex is bleeding profusely from his forehead and staring into the camera. An alarm beeps and he turns it off. Jay ends the tape with "I need to find out where Alex has gone." It is worth noting that The Operator never actually left the room in the video.
Entry #15 - Interview with TimEdit
Tape: Jay's Search for Alex
Appears: Tim
Cameraman: Jay
Entry #15 is the first entry to be filmed by Jay after the events of Marble Hornets, concerning his search for Alex Kralie. It is made up of an interview with the character of Tim, a cynical actor known for his short temper and the smoking of cigarettes. Jay convinces Tim that they are simply trying to finish the film. Tim reveals that he met Alex originally through a mutual friend named Brian, and that they never got along very well. Alex began as a decent director and person, but began to grow angry and paranoid as time went on, to the point that he was lashing out at his cast. Tim also says that a reason Alex might have moved away was that someone was leaving dead animals in his yard. Jay tries to ask a leading question about if Tim remembers seeing The Operator, but Tim cannot recall anyone noteworthy. Jay asks Tim if he remembered any man in a black business suit, but Tim doesn't recall anything.
Entry #16Edit
Tape: Jay's search for Alex
Appears: No one
Cameraman: Jay
Jay receives an anonymous tip on the location of Brian's House. When he arrives Jay knocks on the door of Brian's house in the middle of the night, but receives no answer. The house is brick, two stories tall, dating back anywhere between four to seven decades with renovations. Eventually, he manages to enter the building through the rear. He sees scattered papers on the ground and calls out for Alex and Brian, who he assumes are in the building. The entire house appears to be a mess. There is slight visual tearing and loud banging noises at random. Jay continues to search the house, checking closets and lights, and at one point stumbling to the floor with a nasty cough. Jay discovers drops of blood on the floor, in a sink, and assorted bottles of pills, as well as more Operator Symbol pages and a bullet casing. He also finds a blanket and water bottle in a closet, and notes the electricity doesn't work. He ends with the note that he plans to go back. It's noteworthy that if Brian hasn't been around, his furniture still remains.
(Note: the audio and flashlight in this Entry were the inspiration for the indie game Slender, which incorporates many of the same elements)
Entry #17Edit
Tape: Marble Hornets Tapes
Appears: Tim, The Operator, Jay
Cameraman: Alex Kralie
The footage is of Jay, Alex, and Tim filming while conversing and merrymaking before continuing a rehearsal. Jay reads Brian's lines, and if one looks closely, the shadow of Tim's head seems to be visually pixelated and distorted. Outside of the window behind them, the Operator stands uncomfortably close, to the point of changing the temperatures in the room. The video's audio rings while the picture quality begins to fade before it ends. Jay claims he has no memory of the events, and plans to go back to the house from Entry #16 to find more evidence.
Entry #18Edit
Tape: Jay's search for Alex
Appears: Masky (Spoilers)
Cameraman: Jay
Jay returns to the house for Entry #16. He finds the door he had previously unlocked had been relocked, and there is already slight visual tearing. The house is in even greater disarray then before, with more papers, pill bottles, and trash scattered about the floor. Next to a door, Jay discovers a little white doll reminiscent of the Operator. When he turns around, he sees a man standing twenty feet away from him. He has shaggy black hair, wears a brown coat and, most notably, a white mask with black circles around the eyes and lips reminiscent of the features of children or dolls. Masky (as the fandom dubbed him) tackles him to the floor with heavy audio distortion. Masky seizures on the ground for a few minutes before pushing Jay away and fleeing. Jay awoke the next morning in his car near a forest road. He notes his knife is missing. He also notes whomever attacked him he first though was a hallucination until he re-watched the tape.
Entry #19Edit
Tapes: Jay's search for Alex
Appears: Jay, Masky (spoilers)
Cameraman: Jay
Jay reveals he has been video taping himself just like Alex did. He is in his bedroom. He checks his phone, lays down and falls asleep. Masky peers in from outside the window. The video becomes distorted with heavy visual cutting and static audio as Masky slowly enters the room from a shadow in the corner. He moves around the room by what appears to be teleportation or slender walking, although it is possible the tape is just skipping, staring at Jay and into the camera. When the distortion grows more fierce, Jay and Masky disappear. Three hours later, Jay goes back to sleep, but has no memories of the incident. This situation confirms, to Jay, that Totheark is Masky, an account which previously sent odd messages to MarbleHornets. Jay, haunted by his lack of security, ends with the note that he plans to find somewhere else to stay.
Entry# 19.5Edit
Tape: Jay's search for Alex
Appears: No one
Cameraman: Jay
Jay records on tape the items he took from the house in Entry #16. He records the bottle, and notes that it is empty, but flashing footage back to Entry #16 shows that when he found it it had contents. The bullet case is missing, assumed stolen by Masky. The papers which say "FORGET WHAT I SEE", "SEES ME", and Jay notes the symbol appearing on the papers, The Operator's symbol. He also notes the words on the back "AT THE TOWER".  Jay is unsure of what it could mean.
Entry #20Edit
Tape: Marble Hornets Tapes
Appears: Jay, Alex Kralie, Tim
Cameraman: Brian
The entry shows a previous "behind the scenes" interview between Jay, Alex, Brian while waiting for Tim, during which an unexpected series of visual cutting and frightening audio distortion interrupts the video. Tim enters directly afterwards, wearing the same jacket as Masky, feeling cold and struck with a headache. While the Camera is pointed on Tim, a steady stream of audio buzzing occurs. Tim leaves to begin coughing and take pills, suggested to be the same pills from Brian's house, possibly meaning that those were Tim's pills. Jay recognizes this, and also that the message from #19.5 is referring to the Red Tower from the Marble Hornets set. Jay decides to visit the Tower.
Entry #21Edit
Tape: Jay's search for Alex
Appears: No one.
Cameraman: Jay
Jay walks through the park, and a small amount of static is evident. A high pitched buzzing at a low volume begins and grows louder as Jay moves towards certain spots before fading out. Jay approaches the Red Tower and examines it from several yards. He kicks it and hears a hollow noise, and progresses to another side, where he sees the Operator Symbol. He enters the inside from an opening in the back and climbs up a ladder. He finds a metal container at the top with a cassette tape inside. The camera distorts and he falls down. He promised to watch the tape soon.
Entry #22Edit
Tape: Marble Hornets Tapes
Appears: Alex Kralie
Cameraman: Seth
This entry consists of the footage from the tape that Jay found at the Red Tower. In the footage, Alex is walking through an abandoned building, with Seth filming, for unknown reasons. Nearly constant audio distortion is present throughout. Toward the end of the tape, Seth is taken by an unseen entity. The footage distorts, and it next shows Alex in a room, speaking to the camera. He says that Seth is gone, and that everyone else is gone, including Jay whom, the audience is aware, is alive, as is Tim. Alex says that he doesn't remember anything besides what was on the tape. He says that he is going to burn all the Marble Hornets tapes. This is likely the final piece of footage that Alex filmed before disappearing.
Entry #23Edit
Tape: Jay's search for Alex
Appears: Jay (in a mirror), Masky (spoilers), The Operator
Cameraman: Jay
Jay goes back to Brian's house, since he has no other leads. He goes in the Day this time. The house is in great disarray, as before. However, Masky is present in the house, and stalks Jay. Jay also sees the Operator Doll again. When Jay goes into the closet, he finds the mask that Masky used to cover his face. Then he somehow ends up the the abandoned building from Entry #22. As he wanders around looking for Masky he hears a quiet voice. As the distortion begins to increase, he sees the Operator for the first time. The camera then cuts out. Jay states that when he woke up in his home the next day, his camera no longer worked. In addition, he does not remember anything past his encounter with the Operator. He then states that he is never going back to the house again, and that he is done with the investigation.
Entry #24Edit
Tape: Jay's search for Alex
Appears: Jay
Cameraman: Jay
This entry is from Jay's home security footage. After he goes to bed, he gets up, and walks out of his room. However, the camera in his living room (which is where his bedroom door leads) does not show Jay coming into the living room. Two hours later, he gets back into bed, and says that he does not remember getting up during the night. Odd music plays throughout the video similar to classical, but highly distorted.
Entry #25Edit
Tape: Jay's search for Alex
Appears: Newscasters named Angie and Shannon
Cameraman: Jay recording his TV.
Jay states that he has been out of his apartment every since Totheark put Entry #### on his channel. He says that the previous day, someone he knew called him and told him to turn on the news. He then shows the news report (with names and locations removed) of an apartment fire where people were almost killed. The reporter says that a woman smelled smoke coming from another room, and that no one was hurt in the fire. The woman says that the building will likely have to be rebuilt, but is totaled. Jay's final statement is "that was my apartment"
Entry #26Edit
Tape: Jay's search for Alex
Appears: Alex Kralie, Amy, Jay
Cameraman: Jay
In this entry, Jay notes he has been rapidly changing his location since his apartment burned down. He notes however that during this run he had a realization. He realizes that he feels much better and that he isn't paranoid like he used to be since he stopped. He decides that #26 will be his last entry and signs off to the viewers. He then states (in past tense) that he planned to move right afterwards and end his search forever, however he received a text from an unknown number. He shared the text that said "41810", and the MarbleHornets fanbase stated it was a date. April 18th, 2010. When Jay went to leave his current location he found a tape inside of a large package. This tells Jay that someone knows where he is and deliberately left the tape. The tape starts with static only to switch to Amy, a girl Alex knows, who talks to Alex about a video camera she found. Alex seems unnerved and tells her to put the camera away, but when she goes to put it away, The Operator shows up and chases them. Alex sends her out the window upstairs and stays behind. The tape ends with Amy leaving and the tape cutting out with heavy audio distortion. The word "HELP" appears in solid black text against a red background with The Operator Symbol on the side. Jay notes the tape is dated April 4th, 2010, two weeks ago, stating that Alex must still be okay. He also states that he doesn't know when he'll be able to upload again, and thanks his watchers. Between Entry #26 and #27, seven months pass.
Season #2
Edit
Entry #27Edit
Tape: Jay's present
Appearance: Jay (in the mirror), Jessica (walks past him in the hallway, but doesn't interact)
Cameraman: Jay
At the beginning, Jay awakens in a completely unknown hotel room with a radio emitting lots of noise and a television fading in and out of a blue screen with a loud thumping noise. He checks the room and finds several items that seems like he put them there on purpose, such as tripods with cameras. After he gets in his car and begins driving, he notes that he doesn't have any idea how he exactly ended up where he is, or that he has any idea where he is at all, noting to the audience that the past seven months are completely stricken from memory. He also notes the odd camera he has strapped to his body, which was obviously achieved during the seven month period he can't remember. He extends the stay for his hotel room so he can "get his bearings."
Entry #28Edit
Tape: Jay's Present
Cameraman: Jay
Jay takes the time to analyze any possessions he finds, and locates a messenger bag with clothes, a flashlight, some orange pills in an ibuprofen bottle, and a key, and also finds a safe that has been activated, but he doesn't know the code, so he has to wait for the safe to reset to try another random set of numbers again. He runs across a woman in the hallway who asks him why he has a camera, to which he responds that he is doing a documentary, and she states her name is Jessica, the two exchange greetings, but what bugs Jay is that Jessica seems to find him familiar somehow. He also notes that Jessica is the only person, besides hotel staff, he has seen in the hotel, and she has been in an adjoining room. To add to that, Jessica appears to make a lot of noise late at night which is picked up by the night camera in Jay's room.
Entry #29Edit
Tape: Jay's Past
Appears: The Operator
Cameraman: Assumed Jay
This is a video file Jay found on his hard drive. When it takes place is uncertain, but in the video what-is-assumed-is Jay finds some blood, a bloody stone, and a blood spattered shirt, only to notice The Operator before the video cuts out.
Entry #30Edit
Tape: Jay's Present
Appears: Jessica
Cameraman: Jay
Jay notes the camera seems to cause odd feedback when he looks at Jessica, much like how Tim did in Entry #20. Jessica attempts to ask Jay what he's doing in the hotel, much like the previous night, and lies that his "house is being renovated" and the day prior saying he was doing a documentary about hotels. He asks Jessica what she was doing here, and she states she got kicked out of her house. Jay tries to decipher what the noises next door are late at night that are coming from Jessica's room. He asks her what the noises in her room are, under the guise he was filming and overheard them, however Jessica denies she was awake, coughing moments before opening the door, and states she's going back to sleep. Jay goes back to sleep, determined to find out what she knows at a later date.
Entry #31Edit
Tape: Jay's Present
Appearance: Unnamed Man Number One
Cameraman: Jay
Jay starts looking around the area for anything looking like the location in Entry #29, and finds Rosswood Park. At first Jay feels paranoid of a man following him down the trails while looking for clues and items that may help in his search. Eventually he confronts his follower who turns out to be a civilian wandering with his music on his headphones. Jay fails to find anything and gets paranoid, heading back to the hotel defeated. When he returns, he tries to speak with Jessica, who seems aggravated around him. Jessica catches him on his lies about renovations to his house, then relocating, then doing a documentary, and Jay begins to leave, only for Jessica to ask if he's feeling okay.
Entry #32Edit
Tape: Jay's Present
Cameraman: Jessica
Jessica confronts Jay at his door, aggravated and calling him out on the lies he's said, and Jay tries to dismiss her considering there's no purpose for her to worry about a stranger, however Jessica breaks down on him. Severe audio distortions happen when she talks, and Jessica notes that she doesn't even know how she got here either, and is rather frantic. She's been losing massive chunks of time of her life, having constant dreams, and seems to be sleepwalking. She feels something is watching her. Jay stops her during her confession, and asks her to gather her things and Jay will speak with her about what he knows. She partially shut her door and Jay shuts his, who then states he is uploading the video just before anything bad happens. This is the last time Jay and Jessica speak.
Entry #33Edit
Tape: Jay's Present
Appears: Masky (Spoilers), Jay
Cameraman: Jay
Immediately after Entry #32, Jay heads to Jessica's room, only to find her gone with no trace. He notices a small piece of paper with "Combination 1102" with the 0 written as The Operator Symbol, which fails to open Jessica's safe, but does open his own. Inside he finds a cache of tapes, and mounts his camera while he puts them in his bag. As he begins, a hand opens the door behind him, only for him to turn and be assaulted by Masky, whom he strikes with the flashlight, but for whatever reason is limping. Jay notes he escaped with all the tapes and an external hard drive. He then notes that he has gotten to a new location, but refuses to go back alone to the hotel, even for Jessica.
Entry #34Edit
Tape: Jay's past
Appears: Jay
Cameraman: Jay
The first of the tapes Jay found in the hotel safe. He notes the day is April 21st, 2010, and states he is headed to the return address for the package from Entry #26. The return address turns out to be a gutted house with debris everywhere inside composed of broken plaster, paint, wood, and other various objects evidently fallen from the broken house, and graffiti all over the outside. At first he finds nothing noticeable whatsoever, and leaves.
Entry #35Edit
Tape: Jay's past
Appears: Jay, Alex Kralie, Masky/Tim
Cameraman: Jay
Jay returns for a more concrete and thorough look through the house, as it is no longer raining and cloudy. Once again he finds nothing until Alex shows up out of nowhere and helps Jay avoid being attacked by Masky, and ties him up. Once tied up, Jay unmasked Masky to reveal it is none other than Tim. Alex demands Jay hand over the knife, but Jay refuses, to which Alex demands he shut off the camera, and slams down a huge rock on Tim. The footage cuts to Jay driving, so Jay doesn't know where Alex went or if Tim survived.
Entry #36Edit
Tape: Jay's past
Appears: Alex Kralie, Jay
Cameraman: Jay
Corrupted footage that Jay found on the end of the first tape. Jay plays the footage with subtitles. In the footage he is with Alex yelling at him for attacking Tim with a block of cement. Most of the footage is corrupted and impossible to see, but Alex tells Jay to stay low, despite having just yelled at him for being easy to find. Jay surmises that Alex is the one who sent the tape in the package.
enttry #37Edit
Tape: Unknown tape
Appears: A boy named Alex, ?
Cameraman: ?
This video was not uploaded by Jay. It contains footage of a child named Alex celebrating his birthday. As he blows out the candles, The Operator appears.
Entry #38Edit
Tape: Jay's Past
Appears: Alex Kralie
Cameraman: Jay
The tape this was found on is the only unlabeled tape in the collection. It contains footage of Jay and Alex walking down a trail, to which Alex begins telling him about bizarre executions that occurred in the area a long time before, none of which amuses Jay. The story Alex tells him is that the area inside Rosswood was used as a place where criminals would be strung to trees and left to die from dehydration or starvation, although the fauna would grow abnormally fast, so prisoners would be stretched by the trees. The executions stopped once a child was found mutilated and strung up by the trees. Alex never does tell Jay the significance of this story. At one point Jay has to replace the tape and shuts if off, but Jay of the present cannot find the other tape that leads off on it. He does note that he feels uneasy with Alex. He also states at the end that he doesn't know what "enttry #37" is about, having never uploaded it, but does not plan on removing the video.
Entry #39Edit
Tape: Jay's past
Appears: Jay, Hoody (Spoilers)
Cameraman: Alex
This clip takes place about a week after finding Alex at the abandoned house, where Alex tells Jay to find him at Rosswood Park, but Jay can't get any answers out of Alex as to where he has been. Jay sits in the back of his car frustrated, and calls Alex later that night from Rosswood Park about him not being there. Jay gets into the back of his car and sleeps only for a figure to walk by his car and peer in. Jay notes the image was too blurry to make out who it was.
Entry #40Edit
Tape: Jay's past
Appears: Jay, The Operator
Cameraman: Jay
Occurs the day after Entry #39 at Rosswood Park. With Alex not showing up, Jay decides to go into the woods by himself with his camera. He wanders around his camera is assaulted with audio and visual distortions, but he doesn't seem to notice. He tries to call Alex from inside the park, but Alex doesn't pick up. He notes an odd hollowed out tree that sits on top of a pile of brick before The Operator shows up, to which Jay tries to hide around the side of the bricks, but is unable, and eventually drops the camera and runs as fast as he can.
Entry #41Edit
Tape: Hoody Tapes
Appears: Hoody (spoilers)
Cameraman: Hoody (spoilers)
Takes place after Jay ran and left the camera behind, which is picked up and carried by an unknown individual to his car. After it is placed into his car, the figure walks in front of the car and into shot, who reveals himself to be Hoody. Jay doesn't see any of this happen until the present when he reviews it.
Entry #42Edit
Tape: Jay's Past
Appears: Alex Kralie
Cameraman: Alex Kralie
Footage from  the external hard drive, which Jay finds to begin the same date as Entry #40 and #41, and pick up from Alex's camera, where Alex finally receives Jay's message, however Alex's camera is distorted on audio from the beginning. After calling for Jay and wandering the woods, Alex stumbles across Jay who takes off running, only for Jay to admit he ran into the Operator, however Alex berates him for losing his camera. Alex and Jay get into an argument over Alex being mad at Jay for not being up to helping, and Jay being mad that Alex isn't giving him information. Before Alex leaves, Jay notes that the camera he left behind is in his passenger seat.
Entry #43Edit
Tape: Jay's past
Appears: Alex Kralie, The Operator
Cameraman: Jay,
Starts with Jay in an unknown location talking to someone over the phone who reveals to be Alex. The two go to where the video for Entry #26 was shot. Alex confesses that he doesn't remember escaping The Operator, that all he remembers is waking up in his apartment. After some coercion, Alex agrees to go knock on the door to Amy and Jessica's house, but they get no answer, indicating Amy never came back home, and her roommate isn't home either. The roommate Alex calls is named Jessica. Alex and Jay drive off, and Alex refuses to tell Jay where he is living. The rest of the tape is Alex wandering about by himself for no explainable reason. He eventually reaches a grove where The Operator waiting for him, and he slowly walks towards him after collapsing once. This is one of Jay's first indications that Alex is somehow tied to the Operator in a dangerous way.
Entry #44Edit
Tape: Jay's Past
Appears: Alex Kralie, The Operator
Cameraman: Alex Kralie
Contains Alex wandering his apartment before calling Jessica and telling her that Amy was found. Alex then starts spitting up a liquid into his sink, drawing operator symbols repeatedly and then going to sleep with the Operator in his room and vanishing without warning when The Operator does. Jay notes that after the video, he doesn't recall any instance whatsoever of Alex ever getting a hold of Amy.
Entry #45Edit
Tape: Jay's Past
Appears: Alex Kralie, Masky, Hoody (spoilers)
Cameraman: Alex Kralie
Entry #45 is once again Alex and not Jay, and pertains to Alex running into Tim and Hoody in the woods, who tie him up try to kill him but run for an unknown reason. Alex announces that next time, he will kill them. Notably, Alex never notes any person that would make them run away, and the video distorts as he announces he'll kill them. Jay makes no comment.
Entry #46Edit
Tape: Jay's Past
Appears: Alex Kralie, The Operator
Cameraman: Jay
Jay breaks into Alex's apartment to search for clues. Jay does find a tape, but Alex comes back before he leaves and catches him trying to sneak out due to Jay leaving his flashlight. Alex and Jay have a short argument interrupted by The Operator who appears behind Alex. Jay flees the apartment and grabs a key on his way out, leaving Alex behind. Jay doesn't understand why Alex didn't run considering what was behind him, but does now know where the key he found came from, although he still doesn't know what it fits.
Entry #47Edit
Tape: Jay's Past
Appears: Jay, Alex Kralie
Cameraman: Jay
Jay and Alex get into an argument in a parking lot after the escape. Alex yells at Jay for breaking into his house and taking a tape, stating that Jay had no idea what he was looking for, to which Jay responds with Alex's refusal to give up any information and constantly leave him in the dark, just having him follow around. Alex retorts that it's difficult to get things done when you're doing nothing but being attacked by "masked psycho's". At this point Jay states that the extent of his 'help' is spending nearly three months waiting for Alex to call. Alex states he is done helping him, and Jay demands Jessica's phone number, to which Alex refuses, however Jay locks Alex's keys in his car, forcing him to hand over the number to get his keys back, which is successful. The number is censored out except for the last four digits, 1102, the exact same safe combination that Jay had in his hotel room, basically confirming Jessica being the same girl from the hotel. Jay notes at the end that Alex never did say how he escaped. The video returns at daytime where Jay calls Jessica in regards to Amy, but despite knowing that Alex has not found Amy, Jessica has been told that Alex and Amy have been moving around. Jay tells her not to respond to any calls that Alex gives her, and consoles her saying that Alex probably just made a mistake and feels bad she hasn't been found yet. In hindsight he thinks he never should have made that call.
Entry #48Edit
Tape: Jay's Past
Appears: Alex Kralie
Cameraman: Jay
Jay spies on Alex trying to find out what he's doing and Jay of the present doesn't seem to think he found anything useful, and noticing Alex has been carrying a satchel bag with him a lot, and that he regularly went to Rosswood Park. He follows Alex into the park one day. He follows Alex to the tunnel featured in Entry #29, aware at the time that he probably didn't know what that place was, meaning that Entry #29 took place sometime afterwards. As Alex turns around, Jay runs back to his car, and leaves.
Entry #49Edit
Tape: Jay's Past
Appears: Alex Kralie, Unnamed Man Number Two, The Operator
Cameraman: Jay (comparison), Alex Kralie
This entry is a continuation of the last, but from Alex's perspective. Jay states beforehand that he did not want to put the footage online, but did it because he feels it may be necessary if anything happens to him. The beginning of the tape is identical to Jay just following Alex about, and Alex seems to be mumbling that he knows Jay is following him. After Jay leaves, the rest of the tape is just Alex as he kills a man and strangles him to death before crushing his head with a large rock. He then leaves the body as it magically vanishes as the Operator shows up. Alex creates distortion whenever he's in front of the camera. Jay is certain Alex didn't know who it was and probably killed him for no real reason. Alex contacts Jay to meet him at Rosswood Park despite their altercation before. Jay is of course unaware of what happened at the tunnel, and is unaware that Alex knows he was following. This footage, additionally, means Entry #29 came sometime after this entry.
Entry #50Edit
Tape: Jay's Past
Appears: Jay, Alex Kralie, Masky
Cameraman: Jay
This footage takes place after the footage of Entry #38. Jay calls Jessica at the beginning and tells her that he's waiting on Alex and to call him if she needs anything before waiting again. Eventually Alex shows up, having Jay follow him into the woods, and reveals that the key that Jay took is his spare front door key however Jay denies taking it, and Alex admits to Jay that the satchel is a camera case. Alex also asks about Jessica, whom Jay says everything is fine. Jay keeps trying to get Alex to pay attention to a noise coming from the direction they came in, however Alex makes no note of it and presses on. Jay apparently switched the tapes, which is where Entry #38 happens, then switches to a new tape that comes after. Jay tries to get Alex to leave the woods, who is fine with Jay leaving, and asks him to bring Jessica next time as well, but refuses himself to leave the woods. Notably at this point audio distortion has happened. Jay begins leaving, but runs into Masky who runs off into the woods. Jay chases him feverishly, but loses him. Jay notices that despite being in the tunnel that Alex was in, he doesn't notice anything odd. This indicates that Entry #29 may have already happened and the evidence has been cleaned away. Jay walks into the tunnel and the tape cuts out. Jay notes that since Alex did not have his camera, he didn't have any record of what Alex did after he left. The rest of the video shows Jay once again breaking into Alex's apartment, this time during the day, after Alex takes off. In there he grabs a tape and takes it, labeling the tape "56-42". Jay of the present notes that now he'll be able to find that tape amongst the others he found.
Entry #51Edit
Tape: Marble Hornets Tapes
Appears: Brian, The Operator
Cameraman: Alex Kralie, Brian (when Alex vanishes)
This is the footage off the "56-42" tape. It contains footage from Marble Hornets. Alex is shooting Brian wandering an abandoned building for shots for Marble Hornets. Brian gets various base shots like staring at chipped paint, wandering the fields, and basically getting self-reflection shots. Brian expresses worry about being there the entire time, but finally gets very worried just before the attack. The Operator appears several time during the shoot and the video freezes. When The Operator vanishes, Alex is gone, and the camera is on the floor.. Brian wanders into a room with a camera, looking desperately for Alex, but instead finds Tim is laying down coughing. When Brian turns around, The Operator is standing in the doorway. The next shot is Brian being dragged of camera by Alex, but it does not show if Brian is dead or alive. Jay notes that he is now certain that Alex is very dangerous, and potentially lured Brian out there on purpose. He assumes was the same with Tim, Seth, and Sarah.
Entry #52Edit
Tape: Jay's Past
Appears: Jessica, Jay, Alex Kralie, The Operator
Cameraman: Jay
At the beginning of the footage, Jay says that he watched the "56-42" tape, and that he does not trust Alex. He has brought a pocket knife in case things get out of hand. Jessica and Jay arrive, and Alex leads them into the park. After leading the two to a building in the woods, Alex reveals that there's a secret upstairs, but when Jay goes to investigate, it turns out to be a setup by Alex, now brandishing a gun, to kill Jay and Jessica. The two heard footsteps earlier in the woods, and it is revealed that Tim is behind Alex, who tackles Alex to the ground and allows Jessica and Jay to escape. A gunshot fires, but Jay does not investigate if anyone got shot. Jay sends Jessica to an undisclosed hotel, and takes off himself after raiding Alex's car for his satchel and camera. In the satchel he finds an external hard drive, the same one that Jay has been watching in the present. The two put all the tapes that Jay has taken along with the hard drive in Jay's room safe, which he programs with Jessica's last four phone number digits, however he puts the satchel itself with Alex's camera in his trunk in the hidden compartment. Jay then checks the room, sets up his camera, and goes to sleep. He is awoken in the night by Jessica screaming, and rushes to her door to help. She doesn't respond, and when Jay turns around The Operator suddenly appears in Jay's room and attacks him, as well as heavily messing with the footage, and an image of Jay looking up at the ceiling with a blank expression before vanishing appears on camera. Eventually The Operator concludes by tossing him to the floor. Jay wakes up in Entry #27 he assumes, and therefore must have put his camera back and gone back to sleep. That means Jay waking up in Entry #27 is after being attacked by The Operator the previous day which is why all of his electrical equipment is shown to be misbehaving. He wraps up noting that chances are Alex never had any intentions of helping him whatsoever, in the end he wanted to "tie up another loose end", and found opportunity with Jay looking for him. Jay remarks he plans to find him no matter what and end this. He also notes he still has no leads on Jessica. When he returns to the downtown area looking for clues as to where Alex is, he spots Tim, whom he follows but loses. He plans to find out what Tim is up to, and notes he doesn't know how long that'll take him. He notes this time, unlike the end of Entry #26, that he WILL be seeing this through to the end. Between entries 52 and 53, three months pass.
Season #3
Edit
Entry #53Edit
Tape: Jay and Tim
Appears: Jay, Unnamed Woman, Tim
Cameraman: Jay
This entry starts with video of Jay driving, noting in his typical subtitle format that he has spent the last several months discerning how to find Tim and what he's been up to. He also notes how weird it is that both Alex and Tim have been found so far out from the original site of Marble Hornets. He notes that the building he saw Tim leave at the end of #52 months ago was an antique shop, however Jay notes via camera that the store is closed, with a sign in the yard. Several weeks passed until a person who worked at the store showed up so Jay could question her. He speaks with an older woman, asking her if she's seen anyone of Tim's description. She does recognize a young man of that appearance, noting he always seems to stop by on his way to his doctor's appointment which may be a building down the street. Jay thanks the woman and the camera cuts out. When it comes back, Jay notes that when he did find this "doctor's office" that it was a mental health clinic. Knowing privacy act would not permit any professional inside the establishment to disclose any information regarding Tim to Jay, Jay decides his best bet is to sit outside and wait for Tim to show. The camera jump cuts to multiple occasions where Jay waits outside the clinic, until finally Tim shows up, coughing as he usually does. Jay catches his attention and uses his lie from Entry #15, that he's continuing Alex's movie, but Tim seems concerned and confused, and heads inside for his doctor's appointment after a very short conversation. Although Jay waited outside, he tells Tim when he leaves that he happened to be walking by to see if Tim had left yet. Tim lights up a cigarette and the two talk while walking down the street. Jay tries to lead him with "are you OK" questions to make Tim tell him why he was in the clinic, but Tim just answers he is okay and doesn't actually tell him. Tim gets a call and coughs, then asks Jay for his phone number and says it was work and he has to leave. Tim walks away while smoking and coughing. Jay notes afterwards that he didn't appear to remember anything regarding Jay. While wandering the city, Jay gets a call from Tim, who states he may have some of Alex's old behind-the-scene tapes. Tim offers to hand em over, and Jay accepts.
Entry #54Edit
Tape: Jay and Tim, Marble Hornets Tapes
Appears: Jay, Tim, Brian, Seth, The Operator
Cameraman: Jay (present), Tim (past), Alex Kralie (past)
Jay goes to meet Tim over the tapes. Tim hands the tapes over, then asks Jay why he constantly films everything with his camera. Jay states it's a behind-the-scenes thing. Tim accepts that answer. Jay tries to ask what's on the tapes, but Tim doesn't actually know, as they were shot on one of Alex's cameras, but when he gave the camera back, he forgot to give back the tapes, and, since he lacks any such device to be capable of playing said tapes, he he doesn't, as a result, know their contents. Tim departs back to work, and Jay takes his new cache. Like the original tapes, Jay doesn't see much on them. He notes (sarcastically) that none of them are numbered "unsurprisingly".
The first tape Jay watches shows what appears to be him, someone who appears to be Seth, and Tim all talking, as they run to someone's house during a rainstorm, but get soaked. Alex appears to be on his way. Seth departs shortly. Jay departs afterwards, and Tim heads into his apartment. The video jump cuts to Alex (behind the camera) and Tim inside said apartment. Alex appears to be sarcastically looking at his items in the apartment, and eventually Brian shows up. The three appear to debate over what music to use in the trailer. The power goes out (possibly due to the storm), and Tim sets out to get the power back on leaving Alex and Brian. Eventually the power returns, and Tim, after stumbling about in the dark and hurting himself, turns back to what appears to be a bedroom or living room where The Operator is standing in the corner, however Tim makes no note of him at all. After this note, the power cuts out once more. While in the dark trying to find the breaker box, static assaults the audio suggesting that The Operator is following him through the apartment. Unable to turn the power back on, he grabs a flashlight, and now The Operator appears to be gone from the bed/living room. The three appear to be in the dark afterwards and use the flashlight to try and set up music, however a shadow shoots across the wall and the video cuts out. Jay notes the tape ends there, and says nothing else.
Entry #55Edit
Tape: Marble Hornets Tapes
Cameraman: Tim
Jay notes that the entry appears to be taking place near the end of the shootingfor whatever day it took place on. Alex and Tim walk down the street discussing a potential location for Brian's "Abandoned School" for the movie. Alex notes he hasn't found anything, but Tim has found a burned out hospital in the town he had previously lived in that he honestly believes it could pass for a school. It's very far away, however, but Alex is willing to try the hospital, as he hasn't found anything that would work out. The two decide to do it on a Saturday. The group then proceeds to get shots, before Tim gets a call by his doctor confirming his appointment, and Tim notes he has been having headaches, paranoia, and insomnia for the past few years, and has been sleeping even worse than normal to the person on the phone. The shooting then continues. Jay makes note that chances are his symptoms led to his current state, where he has become Masky. Jay then notes he is going to finish the tape and figure this out. Chances are this entry means that the mental health clinic in the tape from years ago is most likely the same location that Jay found Tim in to begin with.
Entry #56Edit
Tape: Marble Hornets Tapes
Appears: Alex Kralie, Tim, The Operator
Cameraman: Tim
Jay begins by saying he's almost done with Tim's tapes, and is on the second to last. He puts the tape on the channel. In the video, you can hear Tim (who is holding the camera) talking to Alex (who is off screen) talking about the hospital mentioned from the previous entry. Alex mentions that things came up and he forgot about it for a while, and that Tim and himself are there just to scout the location until Brian and Seth show (indicating Entry 51 happened the following day, and Entry 22 happened later in the evening). Tim appears okay with this. At one point Alex notices a building nearby. Tim tries to persuade him that this building they are in is better, and acts as if he is very hesitant to leave, but Alex desires to see it, stating the building they are in isn't passable and they must see the other building. They first head upstairs, and Tim puts down his camera to urinate. Alex also puts down his camera, and grabs a piece of fallen rebar. He hits Tim off screen, who stops talking after the blow. The camera flips for no discernible reason, and show The Operator standing in the room on the other side for several moments before he vanishes. Alex then walks into view of the camera and drops the rebar before walking off screen again. The last thing heard is Tim coughing.
Entry #57Edit
Tape: Marble Hornets Tapes
Appears: Tim, Alex Kralie
Cameraman: Tim
The following tape picks up after Alex attacked Tim. The actual tape begins with a black screen, but with something that sounds a bit like the opening of plastic. When the visual comes up, it is of Tim breathing heavily and fumbling for something in his hands. He then begins to badly cough. Once he stops, he starts walking about the building from the previous entry, trying to get his bearings. He eventually gets outside and begins to perpetually cough. His coughing gets so bad, that he has to stop. The tape cuts to Tim sitting on the ground, coughing just a bit. Once he regains the will to go on, he returns to frantically making his way out of the woods. He then finds a different building, it could be the building that Alex wanted to see in Entry #56, and possibly ocurred after Entry #22 with Seth, and walks into it. He walks around the building for a while, and then comes across Alex and immediately runs to hide. As Alex gets closer to Tim, the audio gets a bit distorted. Alex goes to the other end of the building, and Tim makes his way into a small room. The tape then cuts to Tim, once again, sitting down and coughing, he is frantically trying to stifle his cough. As he is doing this, a figure appears in the doorway and the tape starts to tear. It ends with Jay writing that that is how Tim's final tape ends. Jay then explains that the building that Tim went into looks similar to the one Alex led Brian into in Entry #51. Jay then asks why Tim had gone into that building, as he didn't want to in the previous entry, and why he was trying to stop Alex from going into the building. He also assumed that Alex was looking for Tim, as he was carrying a flashlight and a heavy pipe. Jay then states that he wishes to get back in touch with Tim. He wants to know where the building is, and hopes that Tim will remember so he can see it.
Entry #58Edit
Tape: Jay and Tim
Appears: Jay, Tim, Hoody (spoiler)
Cameraman: Jay
Jay shows up and talks to Tim, who is happy Jay states he found some useful footage. Jay brings up the abandoned hospital that was in the tapes, however Tim states that they never went. Tim states he'll go check his work schedule, and the two will make a trip there. The video jumps to Friday, and Tim shows Jay the building they were going to shoot in. Tim jokingly mentions that a man in a truck with a shotgun would have yelled at them for driving through, so they walked to the building. Furthermore, Tim mentions it's also trespassing, but that it's rarely enforced. Jay sees the hospital, but remembers the second building from the tapes and tells Tim he is more interested in a second building on the premises. Unable to sway Jay, Tim takes Jay to the second building, and the two search the building. Tim is on edge the entire time. While searching, Jay hears a wooden plank fall, and demands an investigation. Tim reassures him its the building falling apart with age, but Jay investigates regardless (much to Tim's Chagrin). Tim argues with Jay as to why he's bothering with Alex's film, as Alex didn't want to finish it and it was just some college film which wasn't all that great. While exploring, Jay takes off running as he spots Hoody who leads him through the building to an outdoor pump house. Tim chases after. Tim finally catches Jay, and demands why he's doing this, but Jay continues on with his story about just wanting to finish the movie. Jay wants to investigate the maintenance tunnel that Hoody supposedly entered, but is unable to find a safe way to do so as Tim is angry and they both lack flashlights. Tim demands they return to their cars. Tim, now frustrated, tells Jay he is done helping him with whatever he was working on, and the two part ways when the entry ends. Jay notes that Tim was frustrated when they got to the second building which doesn't make sense as Tim doesn't remember going there to begin with.
Entry #59Edit
Tape: Jay and Tim
Cameraman: Jay
Jay is in his car, and states that Tim called him to talk. He assumes it has something to do with the hospital and Hoody and all those series of events from Entry #58, and admits it went horribly and that he had no idea how it should have went anyways, admitting to have been running blind for information. He then admits Tim probably won't buy his lies as a film maker much longer and plans to come clean that night. He also knows Tim may still be lying and may show up as Masky, and that Tim may react to his accusations as either an ally or an enemy. Tim does show up shortly, after Jay's aside, in normal attire, and Jay tries to speak, however Tim promptly punches Jay hard, knocking the camera to the ground where it lays for the entire entry. Tim then yells "SHOOTING A FILM YOU LYING PIECE OF...!", showing that he has come to the conclusion that Jay is lying. Tim, yelling, then admits that after the hospital incident he researched Marble Hornets and found the YouTube video entries. Tim is angry that it took Jay until now to admit what was going on rather than when they were running about possibly getting themselves into danger. He also clearly becomes distressed knowing that the entries showed Jay waiting outside the doctor's office just for Tim for an extended period. Jay admits the secrecy was due to being unable to trust Tim, and states that if Tim did indeed see the entries then Tim understands why, phrasing "Can you blame me?". Tim retorts with having a lot of things he can "Blame Jay for right now". Jay pleads with Tim, citing that he knew he couldn't just walk up to Tim and ask questions regarding everything. Tim ignores the question and states that now things make sense. So many years of torment have finally been solved. Tim then goes on a monologue stating that he was finally getting better, that for periods he would wake up in unknown locations in blood, or be unable to hold a job due to being absent for weeks without realizing more than a day had passed. He tells Jay to imagine waking up with your life broken "and no memory whatsoever of that happening." He was finally getting better, however Jay showing up has returned some of the bad effects in slight and thus has caused Tim stress. He accuses Jay of being selfish as his actions affect everyone else. He also yells at Jay due to the fact that pointing his camera at the problem isn't the same as solving it. Jay states so people will know his last testament basically, however Tim retorts with the fact that it is a bunch of online videos and nobody cares. He also cites Jay being insane, as Alex had pointed a gun at him and yet Jay filmed the entire ordeal instead of being proactive. Jay gets angry and reminds Tim of the Masky psychopath situation, and Tim yells at Jay to "shut up!" and that he is NOT a psychopath. He then states that is all Alex and The Operators fault to begin with admittedly. He explains the reason he's truly pissed with Jay is not so much causing the problems again, but that Jay has known about these issues for years and has never once tried to explain the situation to Tim. Jay, however, retorts with that fact that he had no idea that if he indeed did come clean, that such an option would be safe and he wouldn't be killed. He came to Tim because he needed help, and states that Jessica is missing. Tim, not apparently knowing Jessica, states that Jessica was a girl he has spoken to a grand total of "two times" (as Tim says) and that Jay has no proof beyond Alex's crazed behavior that he is in any way involved in Jessica's appearance. Tim then scolds Jay, stating that Jessica was perfectly well off until Jay began muddling in her life with the The Operator situation and Amy. He then states that perhaps the reason all this is happening isn't Alex, but rather Jay, and that by involving himself with people he has only served to make the issue worse. Jay tries to state that Jessica isn't the only missing person (Amy, Seth, Sarah, etc.), however Tim states that he won't help. Jay, distressed, demands to know what it is that Tim wants from him. Tim then states that Jay can keep making his videos and being chased while "not being very good" at fixing the situation, but he wants Jay to never bother him again. Jay, at this point, picks up the camera and walks towards Tim, trying to plead one last time, however Tim turns and yells at Jay that he can keep uploading his "detective videos", but he demands Jay never interfere with his life again. At this, Tim angrily enters his car and drives away. Jay puts the camera down, hangs his head, and wipes his face of sweat, before shutting the camera off.
Entry #60Edit
Tape: Jay and Tim
Appears: Jay, The Operator
Cameraman: Jay
Entry #60 has Jay going back to the hospital by himself. He notes that he didn't really want to go alone, but, with Tim angry and nobody else to help him, Jay pushed on by himself, and also notes the room where the building fire started. He checked the rooms Hoody came from and found the words "HE IS A LIAR" on the wall. On the opposite wall are the words "Follow me". Jay assumes that means follow Hoody to the building he was leading him to to begin with. Heading to the maintenance tunnels (this time armed with a flashlight), Jay heads down and begins searching around. After running about the tunnels, he eventually locates a folder and a small posing dummy. The folder has the word "Liar" with the Operator Symbol on it. Jay also hears footsteps on the building above, which could belong to anybody. As Jay leaves and takes the items with him, he is suddenly attacked by The Operator. He flees through the tunnels with The Operator teleporting behind him frequently, at one point only mere feet away. He does manage to escape to a small corridor, but is trapped. The static shows The Operator closing in, and Jay, in a panic, manages to crawl under the pipes and get away. He then breaks into a full sprint and jumps out of the tunnels and runs through the fields to his car. The end episode captions note that Jay found medical documents and the doll, and plans to check them over. He also says he doesn't remember that final sprint out of the tunnels, so the camera recording is all he has to go on. He says he plans to never return to that building ever again.
Entry #60.5Edit
Tape: Jay and Tim
Appears: No one
Cameraman: Jay
Jay records everything he found in the folder for future documentation just in case. The records appear to be for Tim. The documents appear to be from 1995 in December, and that Tim's mother (First name 'Janet')appears to have filled out the document. The first notes are that she wrote "Headaches, insomnia, and 'possible disorder'", but it doesn't list what disorder. It then notes Tim appears to have chronic seizures, extremely painful headaches, and emotional disturbances. The first document, as Jay notes, has heavy redactions. The second document is even more so edited with information removed, such as "Headaches, Insomnia, and ¦¦¦¦¦¦¦¦¦¦¦¦, noting that the third item this time is redacted. It also notes at one point Tim ran away from home, and notes it as being 2 ¦¦¦¦ ago, so Jay doesn't know how long the timeframe was, and that he was found in Rosswood. The next document is from 2002, and is also partially redacted. He is noted as having a monthly session due to him or his family being uncooperative. The next document is entirely redacted except for the date of January 10th, and the Operator Symbol drawn in the corner. Jay seems more so disturbed by this document due to the fact that it only has a date and wonders if something happened or is going to happen. The final document is also partially redacted. It is a suicide assessment document of which Tim scored 14 points, well above the 10 mark that lists him as high risk. The document notes him as being uncooperative due to hallucinations and alterations of perception, hopelessness, anhedonia, rage, and questionable answers, thus making the validity of anything on the previous documents circumstantial. Finally Jay found a picture in the folder, and it is a picture of the two from Entry #59, and the word "Watching" on the photo. He doesn't remember anyone else being around, but admits being punched in the face does not help awareness. The folder itself has the Operator Symbol and three marks on the back organized in sort of a bored expression of a face, with nothing inside. The doll he found had nothing special on it, however it is to note it is the same one Jay found before in the earlier entries. Jay notes that Tim appears to have dealt with it for years, and that he may have made things worse for him.
Entry #61Edit
Tape: Hoody Tapes
Appears: Hoody (spoilers), Tim
Cameraman: Hoody (spoilers)
The main footage in this entry was not uploaded by Jay, but assumed to be by Hoody. The video involves Hoody and Tim. Jay found it shortly after it was uploaded to his profile, he took it off and renamed it Entry #61 (original entry #61). Hoody breaks into Tim's house. Hoody videos himself taking Tim's pill bottle and then sets the camera at a vantage point before hiding in the closet. Tim re-enters the room coughing heavily, causing audio distortion. He attempts to find his pills but is unable to take them because Hoody stole them. Tim appears to have a seizure, causing heavy audio and visual distortion. Eventually Tim is shown crying in the corner, causing more audio distortion. The camera cuts out a few times during this sequence, causing distorted images to appear. Tim then staggers to his feet and leaves the room, unaware of the camera or Hoody hiding in his closet. Hoody then takes the camera and leaves. During the video, the words "Look what you have caused" flare across the screen, possibly aimed at Jay. At the end, it says "WHERE COULD HE HAVE GONE" and "THIS IS YOUR ONLY CHANCE" Jay states he believes he knows where Tim went, and is on his way.
Entry #62Edit
Tape: Jay and Tim
Appears: Masky, Jay, Hoody (spoilers)
Cameraman: Jay
Jay searches for Tim in Rosswood Park. He starts by wandering about by himself. When there, he finds Masky darting about in the woods, before deciding to attack Jay. Despite running about, he desperately tries to call Tim back to reality, but Masky continues chasing him and doesn't show any signs of returning to consciousness. Jay tries to hide in some brush, but it fails as Masky finds him. Jay takes off running from Masky, and tries to hide around a tree, however Masky blindsides him and knocks him down, throwing several blows and knocking him down. Regardless of his efforts, Masky grabs and carries him off screen kicking and screaming, and Hoody takes the camera. Jay awakens during daylight, with the camera facing him. He appears to be in some weird building. Shortly after, he finds Tim laying outside with no recollection of where he is whatsoever. The two state they may be in Rosswood, and the camera dies due to lack of battery life.
Entry #63Edit
Tape: Jay and Tim
Cameraman: Tim
This starts sometime after Entry #62, but with no discerning as to how long ago it was. Tim is leaving Jay's car, stating he will walk home several miles. Jay tries to reason with him that he can't just pretend what happened didn't happen. Tim states he has to get in contact with his doctor first, as he had called in a panic yesterday but never showed up (due to obvious reasons). Tim tells him to go back home and not mention it to anyone, and the two will figure out where to go from there. Jay asks him how long Tim plans to be, Tim simply responds that he has Jay's number. Jay notes that Alex said the exact same thing. A text card then states that Tim did contact him about two weeks later. Jay shows up to the location holding the medical document folder. The two are standing near a truck yard. Jay notes that it's very nerve racking that the two are meeting at night. Tim states that he just got off work. Jay asks him what took so long, and Tim responds, slightly aggravated, that he's been working, calling his doctor frequently, and trying to figure out what to do next. Tim then demands his medical records, and Jay states he planned to do that already, handing back the medical records as he says so. Tim is aggravated with Jay for involving him again, but Jay defends himself with the fact that there's no way he'd know those records were underground which meant someone wanted him to take them. He says he was giving them back at least, but Tim is irritated he didn't do it earlier. Tim states that it is too late anyways, and that he has bigger problems than having people know his medical information. The two begin arguing, which ends with Tim stating the two need a plan. Jay says he has a plan, with his plan first being finding Tim, and his second plan being finding Jessica. Tim tries to note that Jessica has been missing for a year and a half, and that she may very well be dead at this point. The two begin talking over each other, with Jay stating it is his fault she got taken, and Tim stating that the two are in direct danger from a powerful enemy. Jay then notes that they may be watched right at this moment, and Tim notes that they already know where he lives (noting Hoody from Entry #61). Tim finally breaks and just agrees to find Jessica as long as Jay finally does something about his problem. Jay agrees. Tim says the two need to go back to Rosswood, as at this point it is their only lead. Jay argues, and demands that the two never go back there, but Tim is adamant, and Jay gives in. Jay says he shouldn't ago alone, and Tim sarcastically responds he's trying to go with him because whenever Jay goes alone, bad things happen. Tim states that he has to work with him, as it no longer affects just one, but both of them now. Jay agrees, and states that he's getting uneasy in the dark. Tim says he'll call him when he gets a break in his schedule, and thanks Jay for giving the records back. Jay heads back to his car.
Entry #64Edit
Tape: Jay and Tim
Cameraman: Jay
Jay and Tim are in Rosswood, and Tim is wearing Jay's chest strapped camera. The two wander through Rosswood to the building where Alex tries to kill them in Entry #52, with the goal to find out why Tim was there (as Masky), what, if anything, was in there of importance, and what happened after the gunshot went off. Tim does ask before they go in if Alex has contacted Jay for anything, but Jay denies. When they arrive, they find no blood in regards to the bullet, and Tim remarks he doesn't remember waking up with a bullet wound (indicating his limp in the hotel was either clumsy running or another injury). The lack of blood also suggests Alex didn't shoot himself. They try to then recreate what happened, but it doesn't lead them to any clues. They do find a bullet hole in the ceiling, but otherwise the building is a complete dead end, and the two surrender and leave the building. Tim remarks before they go it has been over a year, so there is a possibility that anyone else could have removed evidence in that time. Tim is unable to remember anything that happened that Jay didn't record, and Jay is in the same boat since Jessica and himself fled when Tim grabbed Alex, and thus the camera shows them breaking for their cars. Their next goal is to find the shack Jay woke up in (and Tim next to) in Entry #62. Jay and Tim, however, have extreme difficulty finding it. Despite searching hard, they can't locate anything. Tim wants to find it in hopes it has clues. Jay rebukes that someone could be expecting them there, like their luck seems to work, but Tim states there had to have been some reason they woke up there in the first place. Eventually they give up and head to the last location: the tunnel. When they reach it, Jay asks Tim to hold the camera. Tim asks if this is where Alex killed the unknown man, and Jay says it is indeed. Tim wonders if Alex knew him, however Jay states he didn't and isn't sure if Alex did. The two try to continue deeper into the tunnel, and Jay states the only time he's ever been there was when he chased Tim as Masky, otherwise The Operator has prevented it. Just as they try to continue further, Jay gets a called from an unknown number. Answering it, it is Alex, who says in a threatening monotone voice "Leave. Now." Jay tells Tim it was Alex, and Tim begins panicking a little, realizing Alex has been most likely following him the entire time. Jay tries to urge Tim to keep walking, but Tim collapses in a coughing fit. At this moment, The Operator shows up. Jay desperately tries to drag Tim away and get him to get up, but The Operator is on them quickly. Jay decides to cut and run, since Tim is incapacitated and Tim is yelling at him to flee for his own safety. He takes off by himself into the forest and only stops to see if he's being followed. When he reaches his car, he is surprised to find Tim inside of his own car, however he is unresponsive and simply stares at Jay with a blank look. He then starts his car and drives away, with Jay screaming to Tim to stop and talk to him. this is to no avail, as Tim drives away with his blank expression. Jay leaps into his car and tries to chase Tim, but Tim gets away. He then notes his next goal is to find Tim immediately.
Entry #65Edit
Tape: Jay and Tim
Appears: Jay, The Operator
Cameraman: Tim
This starts with the tape messing up and repeatedly cutting in and out, showing a few scenes of Tim's chest camera prior to the attack in the previous entry. The video then shows random images of Tim drowning, and him trying to make it home. At one point, Tim ends up on a road at night, vomits blood, and finds a guy dead. He runs away, panicking, and the camera begins rapidly shifting about again. Eventually the camera shows him go to his car and see Jay try to stop him, before driving off (just like the ending of Entry #64). The camera shows that after Tim drove away, he went back to the hospital, where he proceeded to wander about, only stopping twice, once to sob about his situation, the other to stop and take some medication, before finding a room with double doors. During his wandering, he comments about how it "wasn't me", thus assuming that Tim is under the assumption that he killed that man or did something unrelated. He also tries to claw the wall. In the room, he demands to know what "he" wants (assumed to be The Operator), and begins incoherently yelling about how something came from inside the doors. All the while, the audio keeps deteriorating and returning, indicating The Operator is nearby, although he never makes an appearance. He also completely takes every pill in his medicine bottle. Eventually he finds the room where Hoody painted "He is a Liar" and "Follow Me", and grabs a metal pipe. He repeatedly hits the wall saying "He is a Liar", but nothing happens despite multiple strikes. After multiple blows, Tim falls on his back and passes out, having his camera stare at the ceiling until the video ends and the battery dies. Eventually the video cuts to black, and a voice message system on a black image plays, where Tim tells Jay to call him as soon as he can. Jay meets Tim the next day in the light outside a complex, where Jay is surprised to see Tim. Tim states he doesn't remember where he's been, and that the camera was recording the whole time. Tim admits there's something he's held back, and needs to show Jay. They need to go back to the hospital. Jay doesn't want to, but Tim tells him he'll have to trust him on it. Jay sighs and gets ready to leave, but Tim states he needs to go take care of things, one of them being to find if he still has a job or not since he's been missing.
Entry #66Edit
Tape: Jay and Tim
Appears: Tim, Hoody (spoilers)
Cameraman: Jay
Tim brings Jay back to the abandoned hospital, and leads him down the hall to one of the rooms. Tim says that he used to be a patient at the hospital, and that the room they are in where the fire started was where he stayed. Tim then says that he had been having mental issues since he was young, and that one problem was hallucinations, and that they got so bad he would run away from his room, sometimes even to Rosswood Park. He tells Jay that he can't remember his hallucinations, due to his medication, but Tim explains that when he saw the footage of Marble Hornets that Jay posted, he wondered if he was seeing the Operator in his "hallucinations" and thus maybe they weren't hallucinations at all. He then wonders aloud that he may have brought the Operator into the lives of Alex, Jay, Jessica, and everyone else involved. Jay tries to calm Tim down and explain that taking the blame will not help, but Tim is still troubled by the notion that he is responsible for the ordeal and that everything that is happened is all his fault, that he's shifted the blame to everyone except for himself, and says that Alex is probably going through what he did. Jay says that they should leave, but Tim says that he has the feeling that they still need to find something in the area, and that they should find it soon. They decide to look around the area some more, but as they are looking, they start hearing strange noises. Jay and Tim hide in a side room, and they see Hoody come in the corridor. Jay wants to stay in the side room, but Tim says that they need to find out what Hoody is doing. Tim grabs a wrench on the way, Jay asks what the wrench is for and Tim says "just in case." He stops when Hoody goes into a side room, bends down, and walks outside. Tim and Jay go into the side room, where Jay finds that Hoody left a tape. Tim tells Jay that Hoody is heading off to the woods, and they give chase. They have trouble following Hoody, since he ran through the trees. They eventually come upon an open field, but Hoody is nowhere to be seen. Tim is frustrated and wonders how Hoody could have seemingly disappeared. Jay says that Hoody could be anywhere. Tim expresses his frustration that they are not getting anywhere and that Hoody could go to his house again, despite the fact that Jay has a new tape. Tim then leaves.
Entry #67Edit
Tape: Hoody Tapes
Appears: Hoody, Tim, Alex Kralie, The Operator
Cameraman: Hoody
This Entry is the footage that was recovered on the tape. Most of the tape is unplayable although Jay states he did his best to clean it and play it. The tape starts with Hoody walking through the abandoned hospital, a loud hum possibly caused by the dirty tape is playing. Alex walks by at one point, and Hoody watches him walk down a hall and enter a room. Alex leaves, looking around, and continues walking down the hall. Hoody proceeds to apparently follow Alex through the foliage and hospital,watching his movements. The audio repeatedly cuts out as he does, and eventually Hoody notices Alex is surprised by the sound of Tim coughing. Hoody then rushes up behind Alex and violently strikes him with the pipe, knocking him out.
The tape cuts out, and when it cuts back, Alex appears very angry and tied to a chair. In the nearby room Tim is near a wall, squatting. He appears to hear Alex and rushes into the room, assaulting Alex. The tape cuts out once and when it's back, Alex is nearly unconscious and barely breathing. Hoody takes Alex's gun, but is unable to fire as The Operator arrives. Hoody is forced to flee, and the tape dissolves.
Jay notes that the remainder of the tape is essentially unplayable except for the final few minutes. On these last minutes, someone appears to be walking around in a dark forested area with static, and a light comes on showing that person is in the dark. It appears to be Hoody assuming he still has the gun. The tape cuts and comes back, showing Tim, now daytime, laying in the woods near his Masky mask, and coughing. He tries to get up and walk away, but is forced to vomit and is constantly coughing. Eventually Tim appears to come to his senses and is terribly disoriented, walking off without his mask. Hoody, who has been filming him, takes off.
Entry #67.5Edit
Tape: Jay and Tim
Appears: Jay
Cameraman: Jay
This entry starts out with Jay packing his things in his hotel room and keeping the lights dim to avoid being spotted by Alex. After he has done so, he is called by Tim who tells him he is arriving. According to Jay's clock, it is 3:42 in the morning when Tim arrives at Jay's hotel room to confirm their plan to leave the area. Jay tells Tim to follow him. Tim tells Jay that if Alex is still alive, he will find them eventually. Jay states at the end of the video that they are leaving the area because he is afraid Alex will try to kill them again and by moving it can keep Alex guessing and also that he can't say where he's going because he knows Alex may be watching the videos. He also says, however, that he will not quit, because he has come too far.
Entry #68Edit
Tape: Hoody Tapes
Appears: Hoody, Alex Kralie
Cameraman: Hoody
This footage was uploaded by some one other than Jay, who used it for Entry #68. It starts with an unknown individual walking through a forest, and the shadow he projects suggests it is Hoody who is the cameraman.The footage shows Hoody going near an abandoned place that we are never given a name for, and sitting down on a bed. Hoody then removes the mask, however the camera angle is too short to see Hoody's face. He drinks some water and then hears noises and rustling, and goes to investigate. While investigating, Alex, now sporting a beard, slams Hoody against the wall. Alex demanded where Jay and Tim were, Hoody not complying. Alex yells at him to stop smirking. Alex then punches Hoody, and for some reason Alex loses his grip on Hoody. The words "YOU WILL NOT" cover the screen. Hoody frees himself and runs to the woods, with Alex following. Hoody then runs to the maintenance tunnels as the words "YOU ARE AFRAID" appear on screen, followed by "I AM NOT". Hoody notices Alex follows him in. He hides in a nook in the tunnels, listening to Alex looking through the tunnels. By now, Hoody has already put his mask back on. Hoody puts his mask back on, and the words "YOU ARE TRAPPED" appear onscreen before the Entry ends. Jay realizes that Alex is unaware of his and Tim's location, and that he plans on keeping it secret for as long as possible.
Entry #69Edit
Tape: Jay and Tim
Cameraman: Jay
Jay and Tim sit down and discuss why they have left. Tim expresses the notion that they were doing a good job avoiding Alex and that they probably should have continued looking for Jessica back where they started, but Jay says their luck would not last forever, and they can always go back if need be, not to mention they're no good to Jessica if they're dead. Tim seemed more positive about avoding Alex, where Jay was less. Jay notices Tim is taking his medication, and Tim states they're still working. Jay seems nervous and worried about the pills given Masky, however Tim assures him it won't happen again. Jay reveals that he and Tim have returned to the area where they all lived while Marble Hornets was being shot. They backtracked through locations they had been at before, trying to find relevant information. As they walk through the park Alex used as the set, Jay almost trips in a hole, and immediately after says that he saw something, but dismisses it quickly as a bird. Tim tries to make sure, and Jay repeatedly assures him it was nothing. They arrive near the Red Tower, and Tim asks about they tape Jay found there (in Entry #21) and climbs up the ladder to look for anything else, but doesn't find anything. Jay thinks he sees someone staring at him. He states, quietly, there's a person just staring at them out there, but when Tim checks, no one is there (although notably there was audio distortion). They replay the footage, but it's clear neither of them saw a thing. Tium states they should have left when Jay said he thought he saw something. As they walk out of the park, Jay trips in a hole. When Tim looks, he finds a bunch of partially melted tapes. Tim surmises that the tapes are likely Alex's tapes that he did not give to Jay, and burned. Jay notices that two tapes appear to be still playable. After picking them up, they exit the park.
Entry #70Edit
Tape: Alex's Personal Footage
Appears: The Operator
Cameraman: Alex Kralie
Jay explains that he has gotten one of the melted tapes to work, and, as Tim theorized, does contain footage from the Marble Hornets era. The footage starts out with Alex driving down a road at night, when he gets a phone call, apparently from Amy. He talks about using a location near where she lives as a shooting location, since one of the actors says he is from the area (a person playing a minor part). Alex says that he has been thinking about transferring to the school in that area. His reasons are that he hears that it has a better film program, and he wants to be with Amy. Amy asks Alex if he is driving, and for an unknown reason Alex lies and says that he is home, and that the background noise is static. After that, Alex hangs up. After a bit more driving, Alex arrives at a playground, where as he walks, film defects start to occur as does extremely loud audio distortion. The playground is shown to be the same one as from Entry #4. When Alex reaches the swing set, he turns around and sees The Operator. Alex charges him, and yells "What Do You Want!?" and when he reaches the Operator, the camera distorts too heavily to make out what happens. After the close encounter, Alex has a coughing fit, but doesn't see the Operator anymore. Jay notes that the playground is the same as the one from Entry #4. Jay wonders why Alex burned that tape and gave the rest to him. He theorizes that it could have something to do with Amy, since she wasn't in any other footage Jay had seen from that era.
Entry #71Edit
Tape: Alex's Personal Footage
Appears: Alex Kralie, Jay
Cameraman: Alex Kralie
Footage from the second partially melted tape. It too is from the Marble Hornets era. There is a small pile of tapes on the floor. A figure walks in, and puts them in a box, and puts the box in the closet. The person is revealed to be Alex, who carries the camera around with him, before setting it on the windowsill. Alex appears to wait for Jay in the dark, scanning his windows. Jay arrives, and talks to Alex, who says he is moving away because he can no longer afford the house, since his roommates have left. Jay goes to help him pack the remainder of his boxes and they walk off camera. The camera cuts out for 35 minutes. 35 minutes later, they come back on camera discussing what Alex wants to do with the Marble Hornets tapes, and Jay does not understand why he wants to burn all of them. Alex claims he doesn't want them anymore and is very angry about it, but Jay asks if he can have them. Alex says yes, albeit hesitantly, and as Jay goes to get the tapes, something happens to the camera, causing it to distort until they walk back into the shot. Just before Jay leaves, Alex tells him to never mention the tapes to him again. Jay notes Alex is extremely serious about it, and leaves As soon as Jay leaves, Alex grabs the camera, and, after telling Jay to hold on, attacks him. A lot of camera distortion happens here, and the next good shot is of Jay laying on the ground, motionless. Alex leaves him laying there and drives away. Jay notes that this is when he got the tapes from Alex in the first place. However, he does not remember getting attacked, he simply remembers taking the tapes, and leaving. He wonders that if he did not remember this correctly, what else might he have forgotten?
Entry #72Edit
Tape: Jay and Tim
Appears: Tim, Jay, The Operator
After seeing the footage from Entry #71, Jay and Tim travel to Alex's old house to search for clues. When they arrive, they find the door unlocked. Jay is apparently struggiling with the knowledge that his memory is messed up, however Tim assures him to take solace that he isn't the only one dealing with that. Tim and Jay check the house, and note that it is possible that other people have lived here since Alex, so the likelihood of clues is admittedly very low. They talk about what they have seen on the melted tapes, and theorize that Alex gave the tapes to Jay to make himself seem like the victim rather than the cause of the events because he got roped into a situation out of his control. Jay questions why he just attacked him, however Tim notes his attack looked extremely unplanned. They note Alex has the answers, but asking him isn't impossible. They first check the kitchen, to no avail, and then check the basement stairs, but left the flashlights in Tim's car. Jay finds a bunch of drawings written by Alex. Although they are related to their search, they're not helpful in any capacity other than crossed-off names. As they look at the drawings, Jay ducks down below the window, thinking he saw The Operator, but when he checks the camera, he does not see him. Tim says that Jay might need to do to a doctor, since it was the second time Jay thought he saw the Operator (first in Entry #69). Jay brushes off his concerns quickly and angrily, but Tim tells him that if Jay doesn't get this fixed, he'll end up just like him. Tim puts the pictures in his car, grabs the flashlights, and they re-enter the house. Tim tries to get a closet door open, but cannot do it, so Jay goes to help him. In the process, Jay leaves his camera pointing out the window, where it picks up the Operator standing in the field. Jay picks up the camera without noticing, and they find the closet empty. As they walk through the hallway, Jay notes the attic, but note they need a ladder just to reach it. Jay reasons a ladder may be in the basement, and Tim notes they gotta check anyways. They go down to the basement to get a ladder (after first getting their flashlights). As they look around, they don't see a ladder, but Tim notices that is completely dark outside, despite being broad daylight when they walked down moments before. As they turn to leave, the Operator appears behind them. They swiftly run outside into the field as Jay hands Tim his camera, where Jay collapses in a coughing fit. Tim wanders the field coughing and taking his medication before going back for Jay after realizing he didn't follow. Tim finds Jay unconscious, and the Operator is standing over Jay. Tim assumes the worst, but seems to try his best to stand up to The Operator. When Tim gets close to the Operator, he falls into a kneeling position. The Operator vanishes, and Tim helps Jay into the car, and they leave.
Tim later posted on the MarbleHornets twitter account that Jay had been "out of it" since escaping the house.
entry #73Edit
Tape: Hoody Tapes
Appears: Hoody, Alex Kralie
Cameraman: Hoody
This video was not posted by Jay, but by Hoody. The video begins with an unknown camera operator walking towards an abandoned shack. The person goes into the shack, and looks down at a torn blanket, and shuffles it around a little bit, but throws the blanket in the floor after finding nothing around it. The person looks around the shack a little more and puts the camera down on the window sill, and walks over to a nearby wall, where it is shown to be Hoody. Hoody jumps up onto the wall with the help of what seems to be a railing or support, and reaches for something seemingly on the roof. He jumps back down and picks up the camera, apparently having retrieved a gun. He proceeds to leave the shack. Hoody wanders in the forest to find another abandoned shack. The camera begins to malfunction, signaling The Operator may be nearby. Hoody moves into the shack, and soon drops the camera. He drops onto the floor and begins coughing. He takes off his mask, however, his face is not shown due to the camera's angle.. Hoody continues to cough, and the camera's interference continues. After about a minute, Hoody gets up, puts his mask on, and picks up the camera before moving to a nearby room in the shack.  Hoody finds some pill containers hidden in some wooden pallets. One container is empty, the other one only contains one pill. Hoody places the camera on the floor and sits down. He opens the container with the pill in it, and he swallows the pill. He then goes to leave the shack. Several jump cuts occur, first of Hoody walking down a forested path, walking down a highway sidewalk, and finally to a small neighborhood at night. He approaches one of the houses, and, finding the door locked, goes in through the open window.  He goes into the bathroom and finds many of pill containers in the cabinet, however, most of them are empty. He manages to locate two and gets a few pills, although neither of them are close to full. He heads to the main door, and hears the floor creak, causing him to notice a small wooden box, filled with plastic bags. Hoody takes all the bags out and finds a tape buried beneath them. He picks it up then hears a loud noise behind him. When he glances into the corridor, a light is seen moving around in the attic, at the top of the unfolded ladder. An unknown figure begins to walk down, while the camera seems to go a little bit fuzzy. Hoody quickly runs out the front door, and hides in the bushes outside. The figure inside the house turns on the light, and looks out the window. The figure appears to be Alex, although it is not entirely clear due to the light. The figure moves away from the window and turns the light off. As soon as he does this, Hoody gets up and runs away.
Tim confirmed on the MarbleHornets twitter page that neither him nor Jay posted the video.
Entry #74Edit
Tape: Jay and Tim
Appears: Jay
Cameraman: Tim
The tape begins with Tim in a gas station, buying some food. He then drives down the road to meet Jay at a hotel, in which they go inside to talk as Jay has apparently, in his dazed stupor, been wandering the area they have been resting. Jay notes he was afraid someone stole the camera when he awoke, however Tim reminds him Jay wanted him to keep filming if Jay couldn't. Jay then asks if something happened. Jay doesn't seem to remember small portions of the events from Entry #72. He remembers searching through the house and going down to the basement, however he doesn't remember anything about the Operator showing up. Tim notes that it took off when he got close, and Tim assumes his medication was the only reason he stayed conscious. Tim explains most of the events from Entry #72, then Tim tells Jay he was giving Jay his medication, so he did not sink further into his state. Jay seems to be surprised , and tells him to not share the medication, although Tim assures him it is basically the only reason Jay is sane right now, as it is the most sane he has been in a while. Jay then asks if anything happened during that time, and Tim says " They're in my house. " Jay doesn't seem to understand what he meant, and Tim told Jay he saw Hoody in his house (as seen in entry #73.) Tim says that Alex was in his attic, waiting for the two to return. Jay says the best option is to not return, but Tim says that it is his house and he won't let that happen, not to mention he's low on pills. The two have a small meal with the food Tim bought, and they prepare to head to the house.
Entry #75Edit
Tape: Jay and Tim
After visiting Tim's doctor to get Jay checked out, Jay and Tim drive over to Tim's house, where they investigate to try and find the tape seen in entry #73. Before arriving, Tim and Jay debate whether Alex would have purchased a new gun, and what Jay will do once this whole ordeal is over, as Jay remembers his old life as mostly boring. They stop a decent distance and decide to walk to the house just in case. Jay hopes the tape that the hooded guy found is in the house, however Tim is far more worried about Alex. Jay tries to ask why the tape was in his house to begin with, however Tim assures him he had no idea it was there and that the tape was there without his knowledge; he gave Jay all his tapes when Jay asked. The two quietly make their way in, and up the ladder to the attic, and find Alex isn't there. Within the attic they find a sleeping bagt and pillow along with a picture of amy and on the back, "I HAVE HIM. 79 SOUTH CREEK ROAD" along with the Operator symbol. As Tim goes to investigate the living room Jay folds up the picture and follows after slowly. Tim notes his house is a disaster, and it looks as if there was a fight. They check the wooden box and note the tape is gone. Tim notes he hid a medicine bottle behind the couch and proceeds to go for it, however at this time Jay focuses the camera on Tim's pocket and the bulge, looking between the box and his pocket. Jay then asks if Tim's sure he didn't see the tape, however Jay appears to not believe him when he says no and assumes Tim pocketed the tape when he came into the living room. Tim continues checking the rooms with Jay focuses on his pocket. Jay suddenly jumps at Tim and demands he gives him the tape. A tape falls out of Tim's pocket while the two are fighting, and Jay picks it up and proceeds to leave. Tim tells Jay it's too early to view the tape, but Jay ignores him and storms out of the house.
Entry #76Edit
Tape: Hoody Tapes
Appears: Tim, Jessica, Alex Kralie, Hoody
This entry is composed of footage from the tape Tim had in Entry #75. It starts off with an unknown person, later revealed to be Hoody, sneaking around the fence to the hotel from Entries 27-33. He then has a look inside, where he sees Masky coming down a staircase with an unconscious Jessica over his shoulder. The two venture out into the woods, where Masky puts Jessica down. Masky goes off back toward the hotel, and Hoody stays behind to watch. Jessica wakes up, and Hoody tries his best to take Jessica away, but they are spotted by Alex. Hoody runs off while Alex tries to shoot at him, before Alex goes to comfort Jessica. Alex reminds her he is Alex Kralie, Amy's boyfriend. he notes she's likely confused, but they can escape through a shortcut through the woods with Jessica holding the camera. Jessica notes she can't remember how to get home, and Alex notes he understands and is going to help her. When she asks about Hoody, Alex states Hoody wants to hurt "both you and me". At one point, they quit moving when they hear something, however they keep moving when nothing happens. They go into the the tunnel in the middle of the woods. Alex tricks Jessica, saying he he's going to make sure nobody is following them, but when she whips around Alex is pointing the gun at her and states it is Jay's fault and he has to kill her. However, she runs at Alex and takes his gun before he can fire. Alex is then attacked by Hoody, and Jessica runs off. She encounters The Operator beyond the tunnel, mistaking him for a person wandering the woods, and calls out to him for help, before the camera distorts unrecognizably. She keeps chasing him, but when she gets close she screams. The video distortion then becomes incredibly bad, and the next clear shot is of Alex putting his gun in his pocket, and the camera shifts to show an unmoving Jessica. It is unclear if she is dead. The Operator suddenly appears and teleports away with her body. Before the tape ends, Tim (as Masky) walks up to Jessica, removes his mask, and looks around confused. Jay realizes that Jessica has been gone since he left the hotel, and that Tim knew all along and was keeping it from him.
Since this takes place after Entry #33, which takes place after Entry #52, Alex appeared to be aware of Jessica's memory problem and knew he could pretend Entry #52 never happened.
Entry #77Edit
Tape: Jay and Tim
Jay goes to Tim's house, in an attempt to interrogate him and sneaks in through the back as Tim did in Entry #75, seeing the lights on and knowing Tim is home. He knocks, and Tim answers. Jay hopes he has the drop on him, however Tim is prepared for this, and ties Jay up with Zip ties that Jay had. Jay makes a lung for his pocket knife when Tim tells him to sit down, however Jay is unable to make it and is tied up. Tim states he knew the tape was there and that he had acquired it the day they awoke in Rosswood at the shack (Entry #62), explaining he knew he couldn't show Jay because he knew Jay's reaction would be this overt display, and that he knew that would make finding Alex that much harder. Jay states Tim is a liar and demands to know where Jessica is, however Tim states he can't remember any of that tape and Jay should know that. Tim then further explains that even if Jessica is alive, they must avoid her in order to avoid roping her back in, and that she could be dead in which they can't do anything to help. Tim tells Jay that following Jessica isn't helping, they have to find Alex, however Jay is clearly angry and not listening. Tim tells Jay that the address "79 South Creek Road" from Entry #75 is a college, likely the one that Alex said he was going to go to to be near Amy. Tim decides taking Jay is a bad idea, and decides to leave him at his house tied up to avoid him hurting anyone. Jay demands Tim leave the camera, however Tim completely refuses and leaves with it. The text reveals that Tim posted the Entry, and left Jay because he did not know what else to do.
Entry #78Edit
Tape: Hoody Tapes
Appears: Jay
The entry was uploaded by Jay after he had freed himself. the video shows Hoody walking up to Tim's house with a camera. Jay is surprised by Hoody's presence, who goes to the kitchen and returns with a knife. Jay believes Hoody is going to kill him and begins to panic, desperately trying to back away, but instead, Hoody drops the knife and leaves Jay the camera before walking away. Jay manages to set himself free with the knife, all the while telling Hoody to wait. The camera cuts out, and when it cuts back Jay is free and grabs the camera. He looks out the window, but finds no trace of Hoody. Coughing heavily, he goes and takes Tim's pills (although all the containers are empty), a flashlight, and then proceeds to leave after seeing a message on the mirror; "LAST CHANCE" along with the Operator Symbol. Via text. After this, Jay bolts from the house with the camera. Jay proclaims his intention to find Tim, then find Alex and "end this."
Entry #79Edit
Tape: Tim's Endgame
Cameraman: Jay
The video starts with Jay driving, with Jay saying his destination is the school that Tim was going to in the previous Entry to look for Alex. Jay wanders around the seemingly abandoned campus, noting that there are almost no people and that many of the buildings are empty and most of them are locked. He doesn't find Tim, but he does locate his car near one of the derelict buildings and notices that Tim left his camera on the front seat. He investigates the nearest building to the car and finds that it is unlocked and heads inside. While searching the interior, he spots Hoody looking down at him from an upper floor. Jay runs to the stairs in an attempt to reach Hoody, but Hoody is already gone by the time Jay gets to the next floor. Jay continues to search around for Hoody when he begins to hear someone having a coughing fit in a nearby room. He walks in and sees Hoody leaning against a wall and coughing. Jay attempts to approach Hoody peacefully and asks where he can find Alex, but Hoody responds by grabbing a large wrench from a nearby table and swings it wildly at Jay. Caught off-guard by the violent outburst, Jay trips and falls backward and Hoody takes the opportunity to run off again. Jay climbs back to his feet quickly and attempts to give chase, but finds that Hoody has vanished. However, while continuing to look for Hoody, he looks out one of the windows and sees Tim approaching from another part of the campus. Jay watches as Tim goes to his car and retrieves the camera he had left there before walking off in the direction of another building. Jay runs down to the bottom floor and spies on Tim through a window. He watches as Tim unsuccessfully attempts to gain access to an adjacent building.
After trying a few different doors, Tim gives up and walks off while Jay heads over to the same building and tries to get inside. He also finds the doors locked and attempts to look inside through a window but doesn't see anything and decides to follow Tim instead. While pursuing Tim, he passes a sign in front of the locked building that reads "Benedict Hall". Keeping his distance, Jay continues to follow Tim around the campus until Tim walks around the back of another abandoned building, goes down a set of stairs and crawls under an HVAC unit. Jay goes down after him and crawls under the HVAC unit himself, finding a door into the building on the other side. Jay peers through the glass on the door and sees Tim walking around the darkened basement of the building with his flashlight. Once Tim wanders out of sight, Jay goes through the door and continues to follow Tim as he strolls down a long hallway. The hallway opens into a wide room and Jay watches as Tim investigates something near the back wall. As Jay attempts to find a better vantage point, he accidentally knocks over a steel folding chair that was propped up against a column. The loud noise alerts Tim, who flees while Jay hides behind a stone column to avoid being seen by Tim's flashlight. Unfortunately Jay completely loses track of Tim. He tries a door but it is locked, and only notes a rusted sewer grate. With Tim now gone, Jay continues to search around the basement and finds a side room which has a bunch of pictures of Alex (appearing to be tied to a chair) pasted to the wall. Jay also discovers a note with The Operator Symbol and text which reads: "BENEDICT HALL. FIND ALEX. FIND THE ARK." Jay runs back to Benedict Hall but finds that all the doors are still locked. He contemplates breaking a window in order to get inside, but rather chooses to simply spy on Benedict Hall from a viewpoint in a nearby building.
Entry #80Edit
Tape: Tim's Endgame
Appears: Jay, Tim, Alex Kralie, The Operator, Hoody
This Entry begins on what appears to be at least the following day after Entry #79, and Jay is back at the same lookout in an adjacent building to Benedict Hall. A few seconds into the video, Jay spots Tim emerging from Benedict Hall and running away in a manner that suggest he is fleeing something. Jay quickly leaves his position and runs over to where he saw Tim emerge from Benedict Hall and sees that the door was left ajar. He goes inside and finds Benedict Hall in a dilapidated condition like most of the other buildings on the campus. He begins his investigation of the building by heading down into the basement through an open door right past the entrance. In the basement, he wanders down a hallway and peers into various rooms before stopping at one labeled "Photographic Studio and Darkroom". After he enters the room, he looks around without finding anything and then starts to cough. Immediately after he starts coughing, he hears footsteps upstairs. Jay quickly leaves the room and heads back toward the entrance, but when he doesn't hear any more sounds he decides to continue his search by walking down another hallway. Suddenly, he hears footsteps behind him and spins around to see Alex standing there. Alex levels a gun at Jay, who attempts to reason with him, but Alex fires and Jay reacts as though he has been hit. The camera and audio suddenly begin to distort as Jay stumbles into a nearby room and closes the door behind him. Jay slumps down to the ground coughing and groaning, and the camera distortion gets worse. The camera angle tips forward and reveals that Jay was indeed shot, as his bloody hand can be seen clutching a spot on his upper body. The audio then suddenly cuts out and The Operator appears in the room in front of Jay. The Operator looks at him in an almost bemused way and then appears to reach out and grab Jay as the camera malfunctions completely.
When the audio and picture come back up, the camera is lying on the ground in the now empty room. Someone then walks into the room and picks up the camera, which turns off momentarily as the person rewinds the tape. When the camera comes back on, we find out that it was Tim that found the camera. Tim begins to frantically run around the basement of Benedict Hall calling for Jay until he spots Hoody watching him from down one of the hallways. Hoody flees and Tim gives chase, yelling and accusing Hoody of setting this up before he trips, falls, and climbs back to his feet. Hoody, however, appears to have vanished as Tim begins to cough. He then hears the sound of heavy footfalls on an upper floor and then makes a dash for the exit, determined to catch whoever it was. He manages to make it outside (it's now night, implying that some hours have passed) and looks around, but there is no one to be seen. Tim then runs off as the video comes to an end. Then, in the style of Jay, Tim reports in subtitles on screen that he purposefully left Jay behind at his house so that something like this wouldn't happen. He then laments that, "This wasn't supposed to happen," and ends by saying, "I don't know what to do."
Entry #81Edit
Tape: Tim's Endgame
Appears: Tim, Unnamed Man Number Three, Jay, Hoody, Alex Kralie
Cameraman: Tim, Jay (Perspective 2)
This Entry serves as a parallel to Entry #s 79 & 80, but from Tim's perspective. It follows Tim's investigation of the college the day before Jay arrived there. During his search of the campus, he comes across a groundskeeper who he is able to persuade into providing information on the college's film department, which he learns was housed in Benedict Hall. The groundskeeper informs Tim that Benedict Hall was mostly destroyed when the building flooded a few years ago. Although the groundskeeper can't access Benedict Hall himself, he states Tim could try to use the maintenance tunnel to access the building, but that he should wait to seek assistance from the Head of Maintenance the following day. In the meantime, Tim makes a series of attempts to access Benedict Hall without having to wait, but none of them have any success.
He comes back the next day looking for the Head of Maintenance (showing side-by-side video featuring Jay's footage alongside his own), but the maintenance office is locked and no one appears to be around. He then takes it upon himself to look for the maintenance tunnels which leads him into the basement of the building Jay followed him into in Entry #79. Tim finds a manhole cover which he suspects leads to the maintenance tunnel, but is unable to pry it up. At this point, Tim is startled by a loud crash (Jay knocking over the chair in Entry #79). Rather than flee, he hides, and then spots Jay wandering around the basement a few moments later. He waits until Jay leaves, then searches around for a crowbar to use to pry up the manhole cover, but it is already late in the day and he decides to put off entering the maintenance tunnel until the following day.
The next day (coinciding with the events of Entry #80), Tim opens the manhole cover and descends into the maintenance tunnels. He follows one of the tunnels in the direction of Benedict Hall and comes across a sign which reads "Restricted Area. No Entry Unless Authorized". Just then, someone opens another manhole cover directly overhead and Tim hides himself in a small pipe. The person climbs down into the tunnel, and Tim sees that it is Hoody. Hoody stands there for a moment and looks around, possibly having heard Tim in the pipes moments before. When Hoody finds nothing, he runs down the nearby access pipe Tim just came from. Tim emerges from his hiding place and then climbs up the ladder that Hoody descended. When he emerges, he finds himself within the basement of Benedict Hall. He wanders through the basement for a bit before heading upstairs where he hears someone moving around on one of the upper levels. He glances up a stairwell and sees someone (assumed to be Alex) walking around upstairs. As soon as he sees the person, however, the camera begins to distort and Tim starts coughing. He tries to muffle himself, but his coughing grows uncontrollable and he flees through the front door of Benedict Hall (which is what Jay saw at the very beginning of Entry #80). Tim runs away from Benedict Hall, coughing the whole time and his camera failing. He stumbles toward his car and searches desperately through his bag for his medicine, but there is none to be found. He collapses in the backseat of his car, stating in subtitles that he passed out for a number of hours. A gunshot can be heard in the distance, likely when Jay was hit by Alex.
By the time he regains consciousness and goes back to Benedict Hall, Jay is already gone (aligning with when he found Jay's camera at the end of Entry #80). The Entry ends in subtitles as Tim muses that, if Alex had been held captive there, he has escaped and they were never warned by the person who led them to the campus. He also says that he is completely out of medicine after what he brought with him has gone missing and he assumes it was stolen out of his car by Hoody. The last thing he says is that he intends to continue where Jay left off as best he can.
Entry #82Edit
Tape: Jay and Tim
Cameraman: Tim (in the present), Jay (in the tape)
At the beginning of Entry #82, Tim is still at the school where the last few Entries have taken place. His health and well-being are noticeably deteriorating and he notes via screen text that he has been without his medication for quite some time and is at risk of relapsing. Struggling to even walk, Tim stumbles around the campus until he comes across Jay's abandoned car and finds that it was left unlocked. Inside, he recovers Jay's laptop and leaves with it. Screen text then reveals that Tim came across footage on the laptop that he had never seen before, but the timestamp places it at a day before Entry #77.
The footage starts with Jay in his car, looking troubled. Jay has returned to Rosswood Park and makes his way back to the tunnel. After falling down an embankment, Jay comes across some wrecked buildings and a small road through the woods. After a brief sighting of The Operator, who quickly vanishes leaving Jay to attribute the sighting to him seeing things, Jay takes out his phone and calls Tim as he follows the road and discovers the shack that he and Tim awoke in during the events of Entry #62. Tim doesn't answer his phone, but Jay leaves him a voicemail telling him that he has seen the tape (the footage of which comprised Entry #76) and he returned to Rosswood to try and retrace Alex and Jessica's steps. However, he states that the layout of the woods and the path he is following is wrong and doesn't match up with their past experiences at the tunnel and at the shack. Jay ponders whether the layout of Rosswood is changing, or if he is losing his mind. There is some brief audio and visual distortions (and some more quick glimpses of The Operator) as Jay begins to search the shack. As he continues to look around, he apologizes to Tim and expresses his desire that they don't abandon one another, and that he intends to come meet Tim at his house the following day. He also mentions that he has been seeing things that aren't there and that he is growing more sick as a result before he begins having a coughing fit. He ends the voicemail message and stumbles into the shack as his coughing grows worse. He collapses to the ground inside that shack, the video begins to distort, and The Operator appears over Jay as he writhes on the ground. There is then a brief, distorted image of Jay running through the woods with the camera before the video abruptly ends. Tim then explains in on-screen text that he never received Jay's voicemail or even logged his call and bemoans that Jay's condition was far worse than he thought, noting that whatever happened after the footage ended caused Jay to go from being apologetic to violent.
Entry #83Edit
Tape: Tim's Endgame
Appears: Tim, Hoody, The Operator, Jay
Cameraman: Tim
Tim continues his directionless search of the school while his condition worsens to the point that he can hardly walk. While roaming through the building Jay investigated in Entry #79, Tim succumbs to a couging bout and begins spitting up blood. The camera also begins to noticeably distort. He recovers briefly and moves into a hallway, but collapses as a figure approaches from the other end of the hall. At first Tim, perhaps delusionally, believes the figure to be Jay, but it is revealed to be Hoody, who drops the Masky mask in front of Tim. Tim pushes it away and refuses to put it on as distortion occurs and The Operator appears behind Hoody. Both Hoody and Tim flee down the hall, but Tim is then seemingly teleported to the hallway at The Abandoned Hospital. The rest of the Entry involves Tim pursuing Hoody while he continues to teleport between multiple locations seen in previous Entries such as The Tunnel, Rosswood Park , the Abandoned Hospital, and a dark street with a lone streetlamp overhead. He appears to teleport (seemingly) through time as well. At one point, Tim appears to be in a struggle with Hoody, even getting the upper hand and removing Hoody's mask, but video distortion appears and hides Hoody's face. There are also sightings of fire and different objects being crushed or moved on their own. Tim eventually teleports back to his own house and sees the words "YOUR FAULT" written multiple times across a mirror in his living room. He falls to the ground and finds the floor of the house covered in papers featuring scribblings of The Operator Symbol and the words "YOUR FAULT". He looks up and sees Jay slumped against the wall, his hand covering his bloody gunshot wound. Tim turns around and sees Hoody standing there and goes after him while yelling, "I'll kill you!" They teleport a few more times before ending up back at the school with Hoody hanging from a ledge in an upper room. Tim grabs a large pipe and rushes him, but Hoody slips and falls to the lower floor, falling to his death. Tim looks down and sees Hoody splayed on the floor below and rushes downstairs to the body to examine it. He checks Hoody's pockets and finds a tape and a full pill bottle, from which he immediately takes some pills. He then tries to remove Hoody's mask but flees when The Operator appears again. He runs through the door and is teleported through another series of locations before ending up under the streetlamp on the dark street with Hoody's body next to him. He reaches for the body, but the video distorts and cuts out. When the image returns, the camera is lying on the ground in a field and distorting badly, while Tim is unconscious a few feet away. Tim gradually awakens and grabs the camera which cuts out again.
Entry #84Edit
Tape: Tim's Endgame, Marble Hornets Tapes
Appears: Tim, Alex Kralie, Brian, The Operator
Cameraman: Tim (present), Alex Kralie (on the tape)
Tim is driving while the badly malfunctioning camera records from the passenger seat. Tim arrives at his house and the video cuts to a shot of a frustrated Tim shaking and hitting the camera in an attempt to get it to work properly. The video then suddenly cuts out, and on-screen text reveals that the camera (specifically, the chest-mounted camera) has completely stopped working and that Tim is using the camera he recovered from Jay moving forward.
Tim rushes into his house but finds things exactly how they were left in Entry #78, and not anything like what he saw in the last Entry. Tim then documents the tape he retrieved from Hoody's body and the Entry switches to the footage found on it.
The tape depicts a younger Alex during the first day of auditions for Marble Hornets. Alex prepares diligently for the audition and seems to be rather excited, but grows despondent when no one bothers to show up as we see through a few jump cuts. After what is implied to be an extended period of time, Brian shows up for an audition and Alex sits him down to record him doing a read of some lines while Tim can be seen waiting outside the door. Brian asks if he's late and if there were others, however Alex assures him he can fit it in and there were others (likely just to pretend there's competition). After only a few lines, Alex thanks him and Brian gets up to leave before Alex asks if Tim wants to try out as well. After some coaxing from Brian, Tim agrees to the audition which is also the first time he and Alex ever met. After a very brief audition, Alex thanks him and sends him off. Brian invites Alex to join him and Tim for dinner, but Alex declines, insisting he has a lot of work to do from the auditions along with b-roll footage to film.
There are then a few shots of Alex getting b-roll (mostly of street lamps and roads, a mailbox, and a few other locations), when the video begins to clip and distort as The Operator appears briefly under a streetlamp down the road before quickly vanishing again. The video portion of the Entry ends with Tim noting in text that Brian was one of the few friends he had back then. He also noted that Brian was wearing the same hoodie in the audition tape that Hoody had consistently worn since his first appearance. Tim says he doesn't know how he would have reacted had he known that it was Brian who fell to his death in the last Entry. He admits that three people have now died because of Alex's actions, and that he knows Alex is watching these videos. Tim finishes by stating that he'll be waiting for Alex.
Entry #85Edit
Tape: Tim's Endgame
Appears: Tim, Alex Kralie
Cameraman: Tim
Tim is cleaning the message (Last Chance) that Brian left when he set Jay free. It then shows Tim drinking a beverage infront of his kitchen window. Tim is now sitting on the couch, taking out the camera from the chest mounted view. Then Tim looks outside of the window and plays his guitar. The lights are now off and Tim is playing with a lighter. The camera is now facing to the right as Tim looks out the window. He talks to himself about how he didn't know what he thought was going to happen when he wrote that he'll be waiting for Alex at the end of the previous entry. He also states that he's been there for weeks and he's gotten no threats from Alex. He laments being the only survivor, not wanting to be alone, and how he went to get a gun but decided against it. Tim assumes Alex is watching from somewhere nearby, and both are basically waiting for something: the other to do something stupid.He comes to the conclusion that Alex likely assumes Tim is home, so if Tim is waiting elsewhere without Alex knowing he's not home, perhaps it'll help and lure Alex. Tim then realizes that he should've talked to himself more often and then goes into the car and decided to drive down the road and watch his house from there.
It shows the house at day, then it cuts to it at night. Tim zooms in on the house and Alex is seenwalking inside with a container of some kind. Alex then opens the front door and enters Tim's house. Tim runs to the front door of his house and quietly walks inside, finding liquid on the floor. Tim peaks around a corner and Alex has a gun and is pouring lighter fluid on the floor. Alex is opening doors looking for Tim, but is obviously unaware that Tim tricked him into thinking he was home. Alex begins shouting into the air assuming Tim is listening and then begins to point out that this is all Tim's fault and that Tim is the source of all his problems. Alex tells Tim that "You're the reason any of this happened!." He then shouts "EVERYONE IS GONE, BECAUSE OF YOU! You left Jay, you left Brian, EVERYTHING THAT HAS HAPPENED IS YOUR FAULT!" Alex then tells Tim that this will not end until he is dead. He then tells Tim that if he doesn't burn to death and do the right thing that he has to come and find him and settle this. Alex then lights a match and touches the fluid with it. Tim, who is still in the house, then runs to the table, picks up his pills, and then runs to his car. Tim then shows a news report of a house burned down and it shows the same chug of oil Alex used to burn the house down. Tim says that there is only one way to end this, and it's to find him.
Entry #86
Edit
Tape: Tim's Endgame
Appears: Tim, Alex Kralie, The Operator
Cameraman: Tim
The video starts with him looking at Benedict Hall, and decides to make his way into the building the same way he did before: the maintenance tunnels. Equipped with his camera and flashlight, he heads through the building to face Alex. He takes some of medication, and prepares to head up the maintenance tunnel ladder.
Once inside Benedict Hall, Tim readies his pocket knife and hunts through the building, trying to find Alex. Nervously, he continues flashing his camera around quickly, hoping Alex won't caych him off guard. He eventually makes his way to the entrance, where he keeps searching the basement to find Alex. He finally decides to head up the staircase and to the front door, and continues furhter up the building Where he has previously spotted Alex. Debris everywhere, and the building falling apart, Tim slowly maneuvers through the clutter little by little, and enters a bathroom. Tim is then caught off guard as two gunshots ring out, not having seen Alex before the fire. He manages to dodge both and the following shot, and falls through the floor. He finds his leg injured, having hit the pavement. He looks up to spot Alex staring at him through the hole in the floor, and spots The Operator.
Tim is then in The Tunnel at night, and is too injured to move well, but forces himself to his feet. He spots Alex walking towards him and tries to reason if Alex continues this, the violence won't ever stop and the monster chasing them will just continue, not to mention this won't fix a thing. Alex refuses to listen and keeps firing at him, however he misses as Tim runs. As Tim rushes into the forest, Alex shouts out to Tim, wherever he his, that if he does kill everyone involved, that it will stop. If Tim gives up, he can stop this disease. He reminds Tim that he is the reason that it's even here is Tim's fault, and if Alex hadn't done what he had done, it would have spread further. While Alex talks in the dark, Tim rushes and gets Alex in the shoulder with his knife, which causes Alex to wildly fire over and over, wasting his entire clip. Just as the knife contacts Alex's shoulder, the two are in the Abandoned Hospital during the day. Alex drops the gun and Tim runs for it, but finds the clip empty. Alex, now using the knife, tries to stab Tim. Tim stops him, but is punched repeatedly by Alex as The Operator watches.
Tim is suddenly in the hospital part of the building holding the now bloodied knife and without Alex. He spits up some blood and keeps moving. He shouts to Alex that it doesn't have to be this way, and that The Operator isn't protecting him, but controlling him. Tim tells him he knows how to block him out, and that he can help Alex to stop this monster and the two of them can beat it. If Alex kills Tim, Alex will have no help and may become what Brian became. He is surprised by Alex, as the two teleport to some room where Alex shows that he knows what happened to Brian. Alex tells him Brian's death is his fault, and Tim screams loudly, appearing in a hospital room with The Operator appearing and disappearing. Tim struggles for more medication, and empties the bottle. The Operator having left, Tim gets to his feet. Tim yells to Alex that he may not be the only source, and that hundreds or thousands of people may have been sources. As Alex shouts to Tim from an unknown location, Tim is surprised by The Operator and keeps teleporting between Benedict Hall and the forest. Alex states he has done everything to contain this situation and that Sarah, Seth, Jessica, Amy, Brian, Jay, and soon Tim will be dead to control this.
Alex then rushes Tim and tries to choke him to death, however Tim chokes out that Alex isn't doing anything to help. He then asks if when he killed Amy if he was 'in control' then. Alex tries to punch Tim, but Tim surprises him with the knife and strikes him in the neck, stating Alex actually missed someone. As Alex struggles, The Operator appears and begins causing Tim pain. Tim rushes to Alex in desperation, takes the knife, and strikes Alex over and over offscreen, with Alex's legs eventually twitching as they go limp. Tim then slumps against the wall, The Operator gone, and covered in blood all over his arm. He coughs and breathes, and grabs the camera, trying to walk away. As he does, Alex tells him this won't end yet. That Tim sees how it spreads, and that if anyone is left, Tim must kill them, then himself. Tim leaves Alex to bleed to death, as Tim vomits and heads to the stairs, passing out and dropping the camera while crying and laughing.
Entry #87
Edit
Tape: Tim's Endgame
Cameraman: Tim
The video starts with Tim driving down the road during a bright day. He stops his car and we can see he's cleaned up from what happened before. Stopping at a parking lot, he opens his trunk and checks clothing bag before switching and checking a side pocket, where he pulls out the Masky mask and proceeds to toss it in a dumpster, apparently ridding himself of it forever as he slams the dumpster door shut.
The video jumpcuts to him stopping in a parking lot and smoking, at which he checks his pill supply. he grabs the camera when someone shows up. It turns out it's Jessica, whom he apparently knows survived. She mentions her new medication and that she's having the side effects that Tim mentioned. She notices the camera and asks if he is still filiming, and Tim mentions it was Jay's camera. Jessica expresses that she wishes she could have met Jay. Tim lies and states the meeting times never met up, and that he moved to get over everything that happened. Tim then also states that, like Jay, Tim is leaving this area as well, and tells her to remember everything. He then begins coughing violently, which causes Tim to hit the ground and for harsh camera distortion to appear. Jessica asks if she needs to call someone, and the video jump cuts to Tim driving down a road. He coughs a few times, but keeps driving and grabs his pill bottle. He switches the camera to stop filming him and film the road. He stops at an intersection to turn, and the video ends.
The words "Everything is fine" appears.