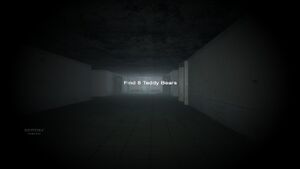 The 3rd map of the Slenderman's Shadow series. It was released on August 31, 2012.
You play a little kid who is walking around a large Elementary school. The kid (you) has to collect 8 teddy bears before the Slenderman catches you.
Trivia
Flashlight is disabled after a short period of time with the lightbulb breaking.
This is the 2nd Slender game to employ the use of items besides notes.
This is the first Slenderman's Shadow map to have an outside (the courtyard of the school).
You can find dismembered body parts of a Slender victim in the school. However, this is not accurate to what Slenderman does in the canon ARGs.
In the courtyard there is a dead body impaled through the top of the tree.