Ad blocker interference detected!
Wikia is a free-to-use site that makes money from advertising. We have a modified experience for viewers using ad blockers

Wikia is not accessible if you've made further modifications. Remove the custom ad blocker rule(s) and the page will load as expected.
Slender Man 2! is the 3D sequel to Chapter 1 based upon the Slender Man legend.
The goal is once again, trying to escape Slender Man and collect all 8 pages in 4 new levels.
The sequel also now includes a sprint button, zoom, flashlight and more!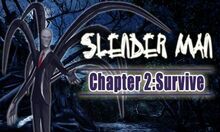 This game is for both Android and iOS products. The developer is Digital Code Works.
The game is available on Google Play and App Store for $0.99 US.
Gameplay
Edit
*Also in this game for some reason, all the pages are on the ground scattered about!
"I know this place, I've been here before. I think I have to find P- Pages..."
Level 1: Home
Edit
You play as an unnamed and unseen man again but this time the area seems familiar to him.
Here are the locations the pages may be by:
House
Hill 1 w/ lammpost
Hill 2 w/ lammpost
Barrels
Spike Fountain
Rest Random
Level 2: Carnival
Edit
The Pages in this level are located by:
Ferris Wheel
Food Stands
Game Stands
Trailers
Spikey Thingy
Merry-Go-Round
Rest Random
Level Settings
Edit